News & outreach

Events & opportunities
Events & opportunities
Upcoming events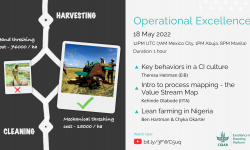 Operational Excellence Webinar: Process mapping and Lean farming in Nigeria
May 18, 2022
This webinar is one of our monthly Operational Excellence Webinars to support and promote a continuous improvement culture. The webinar begins with a quick review of some behaviors that exist in a continuous improvement culture. Kehinde will lead a session on process mapping that will feature the value stream map. Ben Hartman (Clay Bottom Farms), Chyka Okarter (USAID Nigeria FtF Agricultural Extension & Advisory Services Activity) and Jean-Pierre Rousseau (Winrock International) will present their work in creating Lean farms in Nigeria. The webinar is recorded to accommodate all time zones.
Open opportunities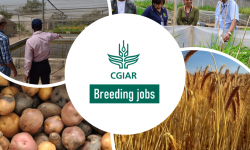 Job | Apply by December 24, 2022
For breeding-related jobs from across the CGIAR, please visit the links below. Unless specified in the job description, EiB is not involved in the recruitment for these positions.
Featured jobs: