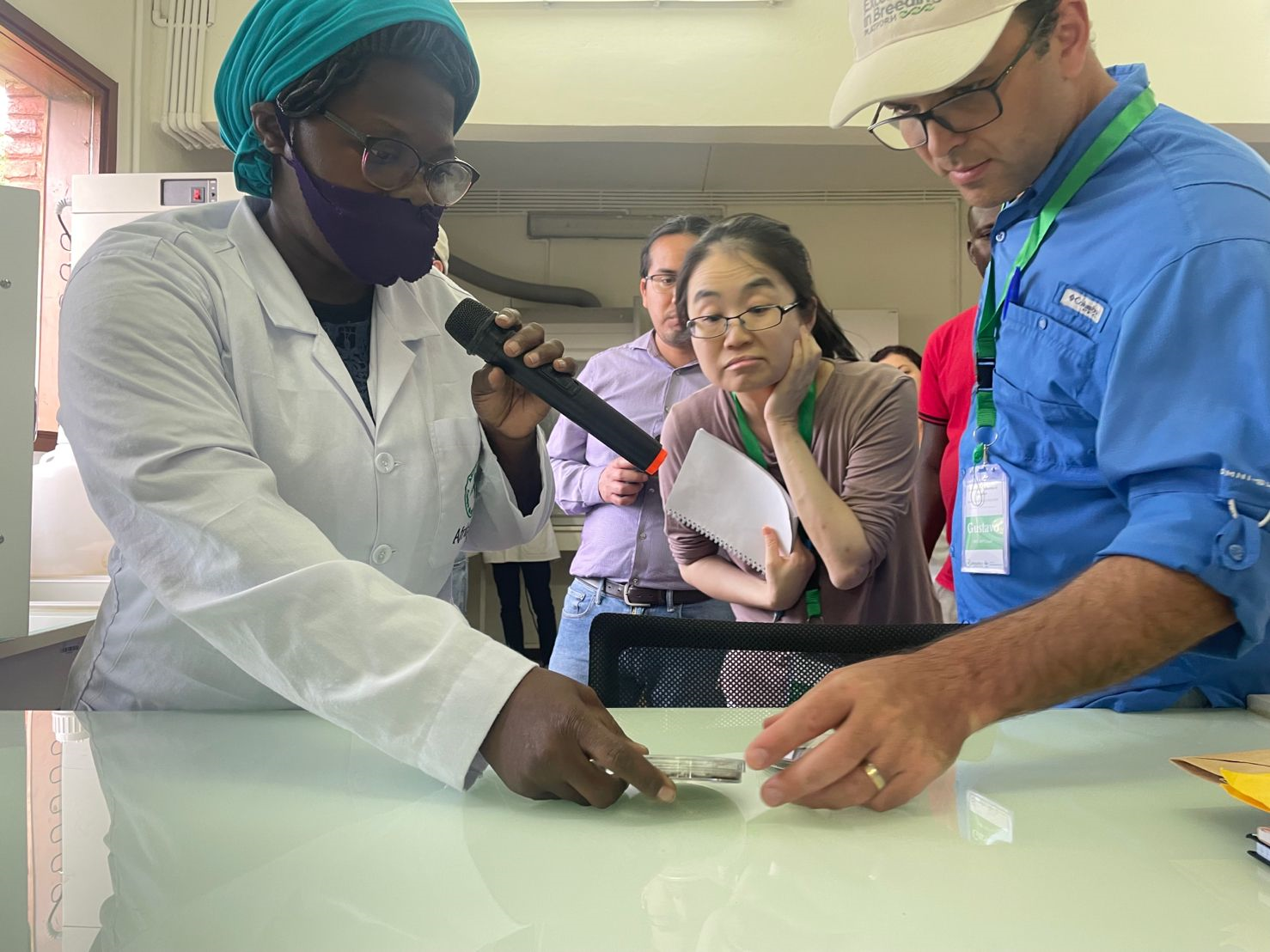 Sitting at the cutting edge of science, the crop breeding domain has been improving and refining tools, technologies and techniques. But adoption by public breeding programs focusing on Africa, Asia, and Latin America has often been slow. This has hindered progress on developing the new varieties needed for farmers to overcome climate impacts, build livelihoods, and feed their communities.
But One CGIAR's new integrated approach is changing that. Building on the work of CGIAR Excellence in Breeding, the Breeding Resource Initiative can point to major progress in 2022, moving forward on an array of shared services, capacity development programs and technical support. Here are five significant milestones helping CGIAR and its national partners deliver better results:
1. Regional hubs are on their way: CGIAR's vision is to have regional hubs coordinating and delivering services across crops. AfricaRice is set to grow into a regional service provider and coordinator for multiple crops in West Africa. After discussions, planning and site visits with BRI, AfricaRice leadership committed to working with the BRI team to start by providing regional nutritional analysis services, aimed to launch for selected partners in 2023. The plan is to then expand AfricaRice's role as a coordinator of other competitive services like genotyping and capacity building. This is a major step toward CGIAR's vision of not just improving breeding stations, but serving  all CGIAR/National Agricultural Research and Extension Services (NARES) partners regionally. The aim is collaboration, efficiency and results in farmers' fields.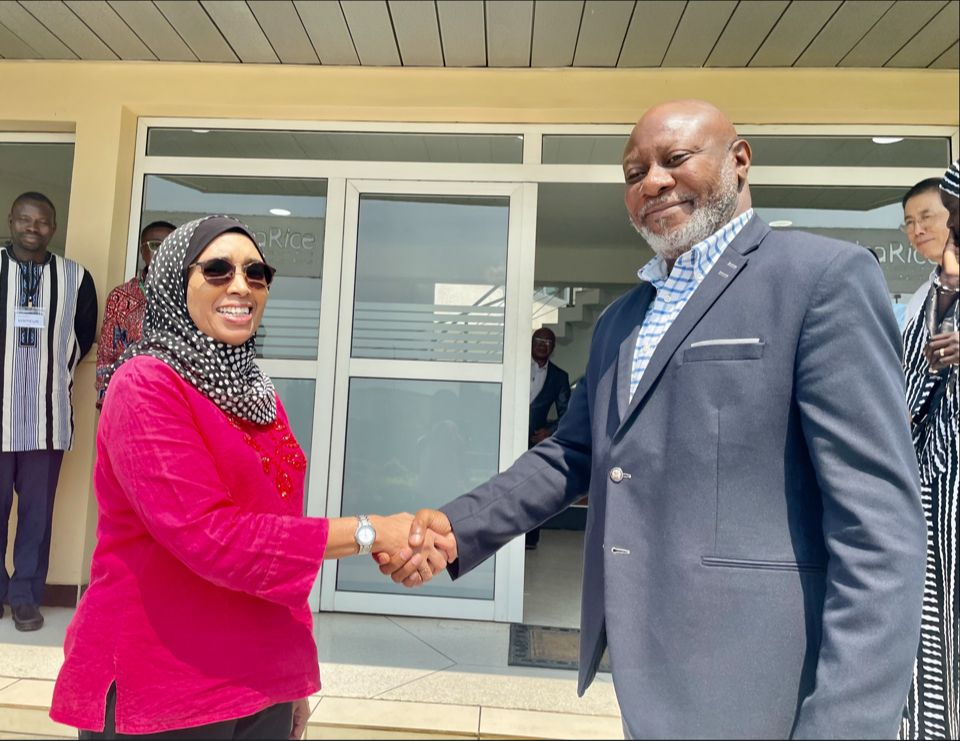 Photo: AfricaRica Director General Harold Roy-Macaulay with CGIAR Breeding Research Services (BRS) Senior Director Sharifah Syed Alwee at AfricaRice HQ in Côte d'Ivoire. Credit: Adam Hunt CGIAR-BRI/EiB

2. Operations teams are amping up skills and knowledge: Breeding success hinges on good operational practices leading to accurate data. To ensure the heritability of breeding trials, BRI has offered resources, trainings and on-the-ground support for operational teams. Through its Breeding Operation Network for Development (BOND), BRI/EiB, along with IITA, ran three weeklong workshops for partners across Africa (watch all 22 sessions on plotmanship, gender, seed processing, irrigation and more), regular webinars exploring private and public sector best practices, and a series focusing on continuous improvement approaches. BRI also trained dozens of operational staff across Africa on how to use and maintain new USAID-supplied equipment. And CGIAR continued its push to harmonize rice breeding processes between IRRI, AfricaRice and CIAT through a week-long rice breeding operations training at IRRI. As well, new tools such as a gender inclusion checklist are now available to support operational excellence. 
3, EBS is settling in as a universal data platform: The data management platform Enterprise Breeding System has made real strides in the past year, with an updated version with new features (Milestone 5) rolling out across three Centers (CIMMYT, IITA, IRRI), with over 500 users. Other Centers, such as AfricaRice are starting to deploy the system too. On their visit to AfricaRice's Ivory Coast station, the BRI team noted barcode deployment across the upland rice nurseries – an inspiration to spur other CGIAR Centers to accelerate their own adoption. EBS is a single, powerful, shared, multi-crop platform and its deployment will mean major time and money savings for breeders – and better breeding decisions.
4. Lab services are expanding: As breeders strive for higher-yielding, climate-resilient and nutritious crops, BRI/EiB have been improving breeding speed and accuracy through streamlined, reliable and cost-effective genotyping services. Services include Low Density SNP Genotyping Services (LDSG), Mid-density SNP Genotyping (MDSG), along with training. BRI also launched a Lab Services Process Team to connect Genetic Innovation departments and teams and ensure delivery of high quality services through standardized processes. And launching in 2023, partners will be able to access biochemical testing for nutritional traits and quality. These improved services mean CGIAR and national partners are becoming more effective and competitive as they use this data to make better decisions.
5. Regional approaches set to drive change: BRI drives change at both local and regional levels. For example, team members visited Kiboko and Njoro stations in Kenya, and ran planning sessions in Nairobi with East African breeding teams. This helped clarify challenges and priorities in the region, helping define how services could best be established. Kenya's key outcomes included: a commitment with CIMMYT leadership to establish services in Kiboko as a pilot, an action plan to improve EBS development and adoption in the region, and endorsement by CGIAR Breeding Research Services leadership of major Crops to End Hunger grants in the region – these fill key gaps in the drive to modernization. The team plans to organize similar sessions to support CGIAR/NARES breeding networks in other regions.
These five strides forward represent but a glimpse into Breeding Resources' progress. And these are much more than just separate achievements. They represent a shift in breeding culture across the CGIAR-NARES networks – one that will help deliver better varieties, faster. With major plans for 2023, CGIAR-NARES can look forward to the tools and services they need to deliver first-class programs.
-----
Story and feature photo by Adam Hunt, EiB/BRI/ABI Communications Lead. We would like to thank all funders who support this research through their contributions to the CGIAR Trust Fund. And thank you to the supporters  and partners of CGIAR Excellence in Breeding, particularly the funding from Bill and Melinda Gates Foundation.