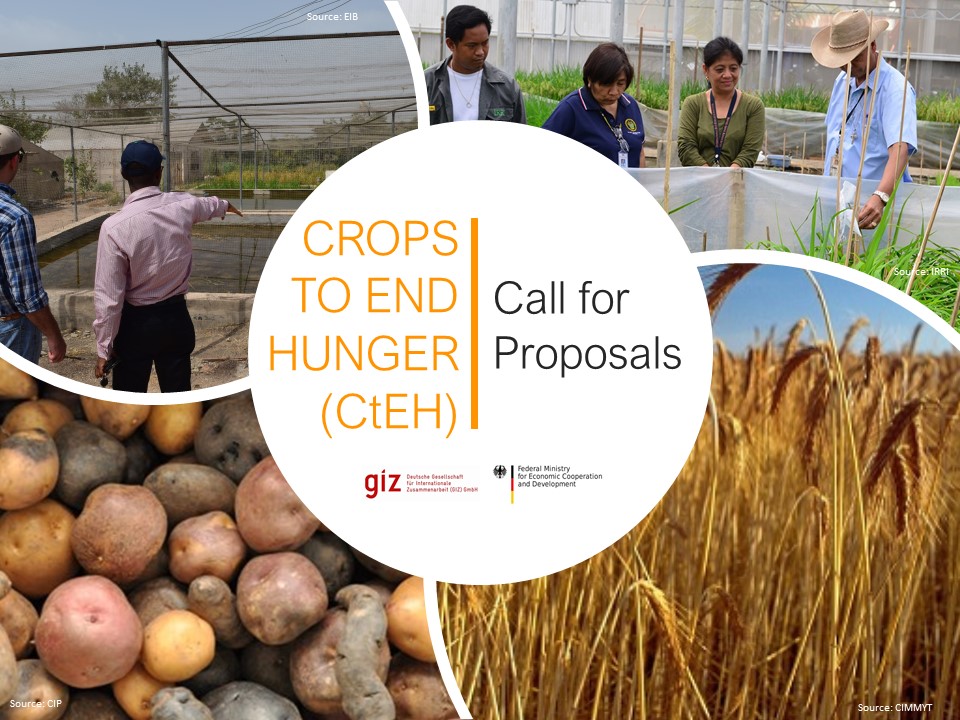 PROPOSAL DEVELOPMENT PHASE:
Access FAQs and PPTs to guide proposal development: click here
OVERVIEW:
The application period for these grants is now closed. This opportunities page remains live for reference only.
Crops to End Hunger (CtEH) is a multi-Funder initiative that aims to accelerate and modernize the development, delivery and wide-scale use of new crop varieties that are better adapted to climate change and that address gender equity, nutrition, food security and poverty. The goal is to have better varieties in the fields of women and men smallholder farmers, faster.
One of the CtEH funders, Germany's Federal Ministry for Economic Cooperation and Development (BMZ), through Deutsche Gesellschaft fuer Internationale Zusammenarbeit (GIZ) is announcing a funding call worth up to $15 Million USD to fund one-off investments that are necessary to modernize CGIAR-NARES breeding networks. We invite your Concept Note submission, due 09 September 2022. A set of Guidelines have been developed outlining the submission process and eligibility criteria together with a template for concept note submission. 
Click here for frequently asked questions about the grants.
BACKGROUND:
A recent evaluation of the Excellence in Breeding (EiB) Platform recommended ensuring the CtEH grant-awarding processes are transparent and follow clear guidelines (recommendation 2c). To address these recommendations, the funding guidelines and submission process have been developed, together with a template for concept note submission bearing in mind other recommendations of the EiB evaluation, in particular:
Recommendation 3c and 3e to ensure SMART objectives with clear deliverables as well as a stronger focus on monitoring and evaluation systems are in place. Recommendation 4e: to monitor that the end-users and most vulnerable and poor are targeted by CGIAR breeding programs (Leave no one behind!). 

Recommendation 5b: to use breeding program assessments to develop modernization strategies, improvement plans and investment plans. Investments should be embedded in tailored, transformative and integrated improvement plans with clear milestones and results linked to the CGIAR performance results measurements and common results framework. Assessments and plans should be followed up and renewed at regular intervals.
TIMELINE AND PROCESS: (dates are subject to change)
Concept note submission deadline: 09.09.2022

Q&A sessions: for concept note preparation will be scheduled in the coming weeks. Recordings will be available

Concept note decision notification: 30.09.2022

Full proposal submission for approved concept notes: 18.11.2022 

Proposal decision notification: 09.12.2022
FUND OVERVIEW:
Process: Applications are made on a competitive basis.

Guidelines: Please read the Guidelines document (download below) before applying and follow the instructions. 

Scope: CtEH funds are directed towards "one off" investments enabling crop x region breeding networks to modernize breeding operations, making them more efficient and effective, and/or accelerating genetic gains per dollar spent for prioritized product profiles/market segments.

Applicants: Proposals can only be submitted by a CGIAR Crop Lead or Center Research Director. NARES participation is highly encouraged.

Grant sizes: from USD 500,000 to USD 2,000,000 per application.

Costs: Funds may support investments in infrastructure, Capital Expenditures (CAPEX), capacity building, and/or organizational changes that are necessary to modernize CGIAR plant breeding programs (see Guidelines). Investments must be linked to the BPAT assessments and/or Genetic Innovation Initiative work packages (See proposals). Funds for routine operational costs or expansion of breeding operations are not eligible. (See Guidelines)

Queries: Questions should be directed to n.enghwa@cgiar.org and m.quinn@cgiar.org
DOCUMENTS: for download
Guidelines: Please read the Guidelines document before applying and follow the instructions of the concept note template [DOWNLOAD]

Concept Note Template: Please submit Concept Notes to n.enghwa@cgiar.org and please cc m.quinn@cgiar.org by 09.09.2022 [DOWNLOAD]

Gender & Breeding Brief: Please ensure projects align with the checklist for gender responsive breeding [DOWNLOAD]

Genetic Innovation Initiative Proposals: with work package descriptions
 Click here for frequently asked questions about the grants.
We look forward to receiving your Concept Note.