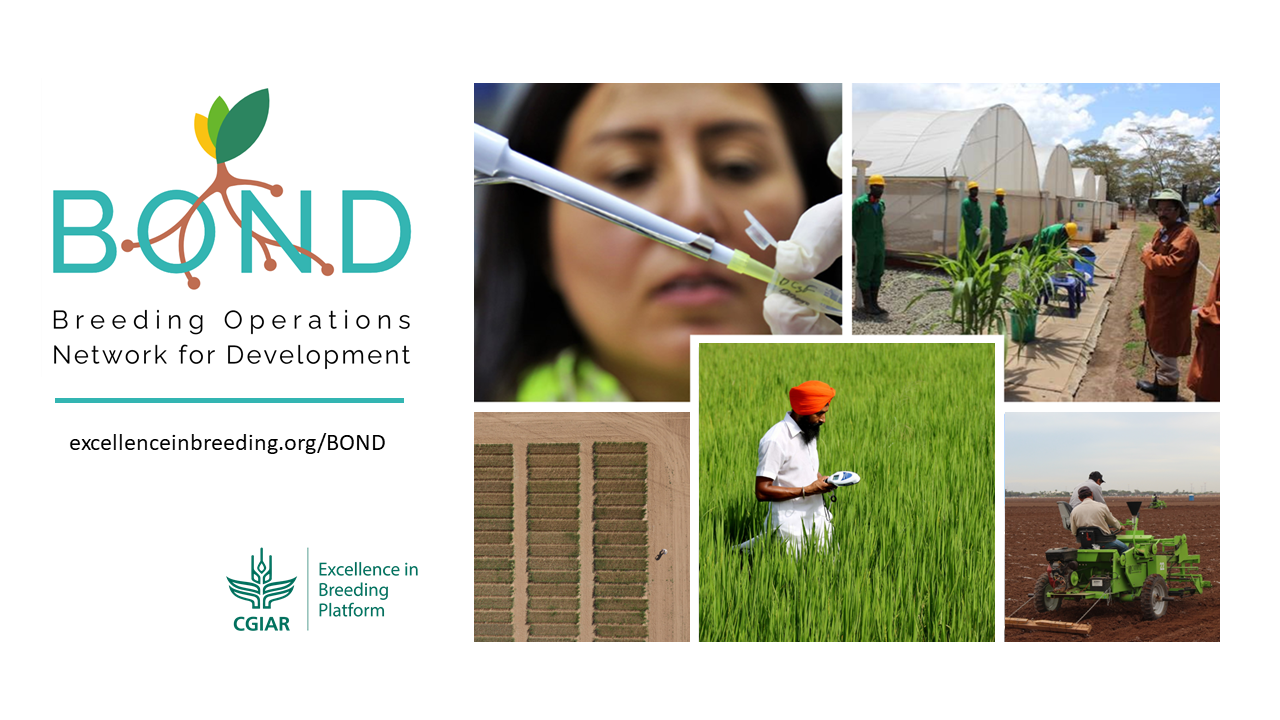 WHAT IS BOND?
The aim of Breeding Operation Network for Development (BOND) is to connect and further professionalize CGIAR, national agricultural research services (NARS), and other interested breeding professionals. BOND will help facilitate opportunities that lead to the acceleration of mechanization, technological capacities, and skill levels of operations professionals and teams.
BOND connects operations professionals, helps develop and implement standardized operating procedures (SOPs) between partner centers, and promotes continuous improvement at the operational level in all technical aspects. BOND works in the most relevant areas, including phenotyping, agronomic practices, seed processing, planting and harvesting.
BOND launched June, 2021 with new programs and opportunities being developed over time. As a "community of practice with teeth," BOND seeks the creation of real-world opportunities for members to improve their knowledge, skills and connections. The network will share Information about practices, technologies, tools, resources and events, and where possible, provide connections for expert interdisciplinary advice on the best breeding operations practices.
BOND is facilitated by CGIAR Excellence in Breeding (EiB)'s Operations and Phenotyping module. EiB aims to accelerate the modernization of CGIAR/NARS breeding programs to increase the rates of genetic gain and varietal turnover. 
BACKGROUND:
With food demand expected to double by 2050 in low-income countries, crop breeding programs must meet the needs of farmers in these regions. Critical to this is delivering high-yielding, nutritious varieties adapted to new climate conditions. Public sector breeding needs to take a key role to ensure that smallholder farmers and consumers get the varieties they need.
Vital to this are breeding operations teams across CGIAR and NARS. To ensure the heritability of breeding trials, they need to continuously improve and enhance capabilities, procedures, and standardization of practice. These practices and expertise need to be available as resources and on-the-ground with operational teams to support breeding programs across all trials. BOND will help teams and experts share information and access opportunities to reach these goals.
OPPORTUNITIES:
Over time, BOND will offer and facilitate opportunities such as:
Connection to hundreds of experts
1-on-1 professional exchange programs
Trainings
Webinars
Networking events
Technical visits
SOP development
Resources
Information sharing
Continuous improvement support
EVENTS & RESOURCES:
BOND related news & blogs:
 QUERIES: Contact EiB's Gustavo Teixeira: G.TEIXEIRA (a) cgiar.org