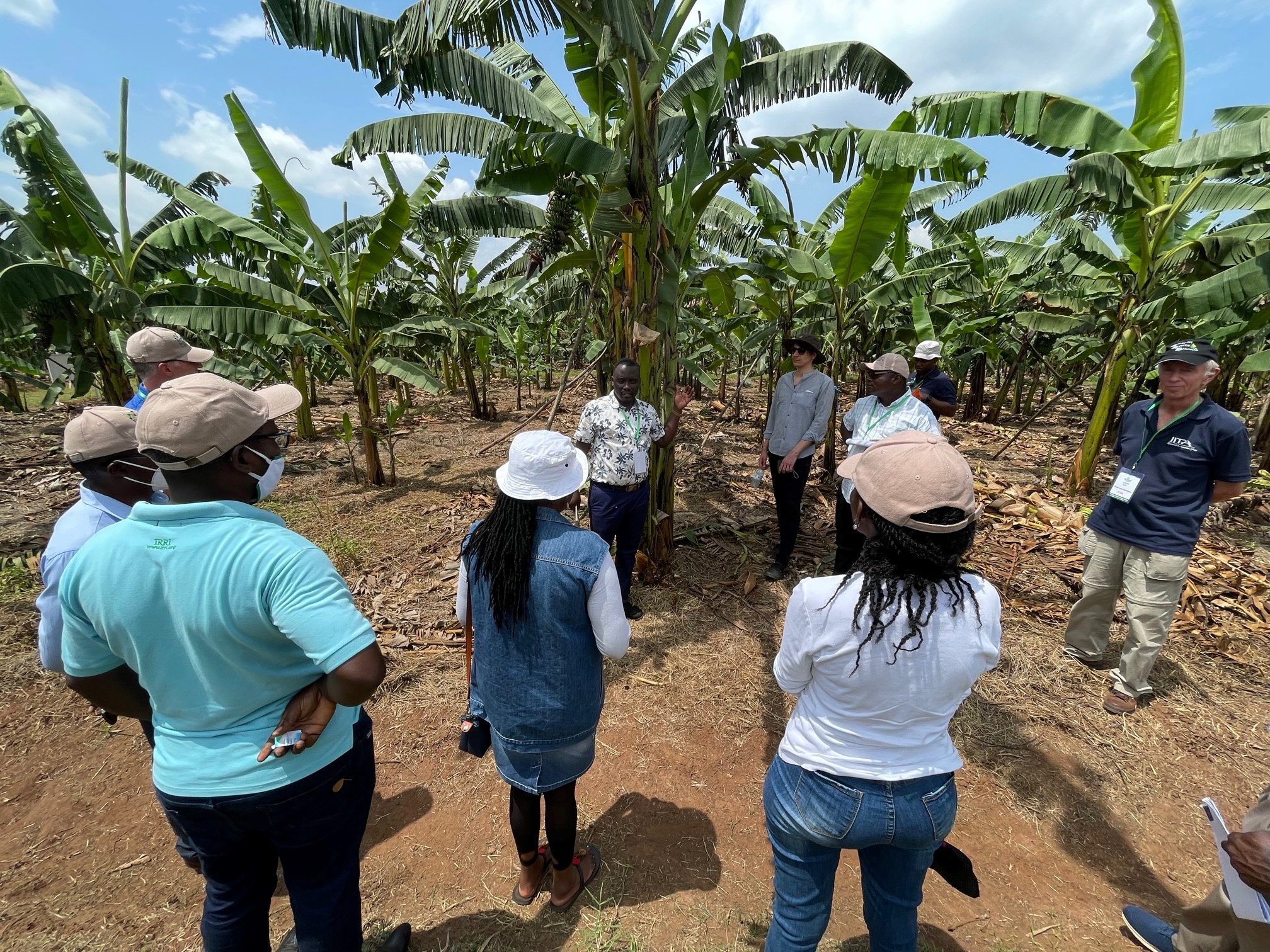 Breeders and breeding operations staff across Africa are amping up their skills and solving shared problems with colleagues across crops and countries. It's all part of a series of CGIAR Excellence in Breeding (EiB) workshops, in partnership with the International Institute of Tropical Agriculture (IITA). 
The workshops titled "Breeding Scheme Design Using Quantitiative Genetics" and "Africa Breeding Operations" have run twice, targeting crop breeders and operations staff from IITA, various other CGIAR Centres, and national agricultural research systems (NARS).
The first set of workshops focused on over 40 participants from East Africa, held in IITA headquarters in Ibedan, Nigeria, 21 to 25 February, 2022. The second set ran in Kampala, Uganda, March 21-25 and included nearly 60 East/Southern African breeders and staff.  And a third is taking place in Philipinnes in August, with a focus on rice breeding operations in Asia and Africa. EiB teams also deliver the work through the new CGIAR Breeding Resources Initiative.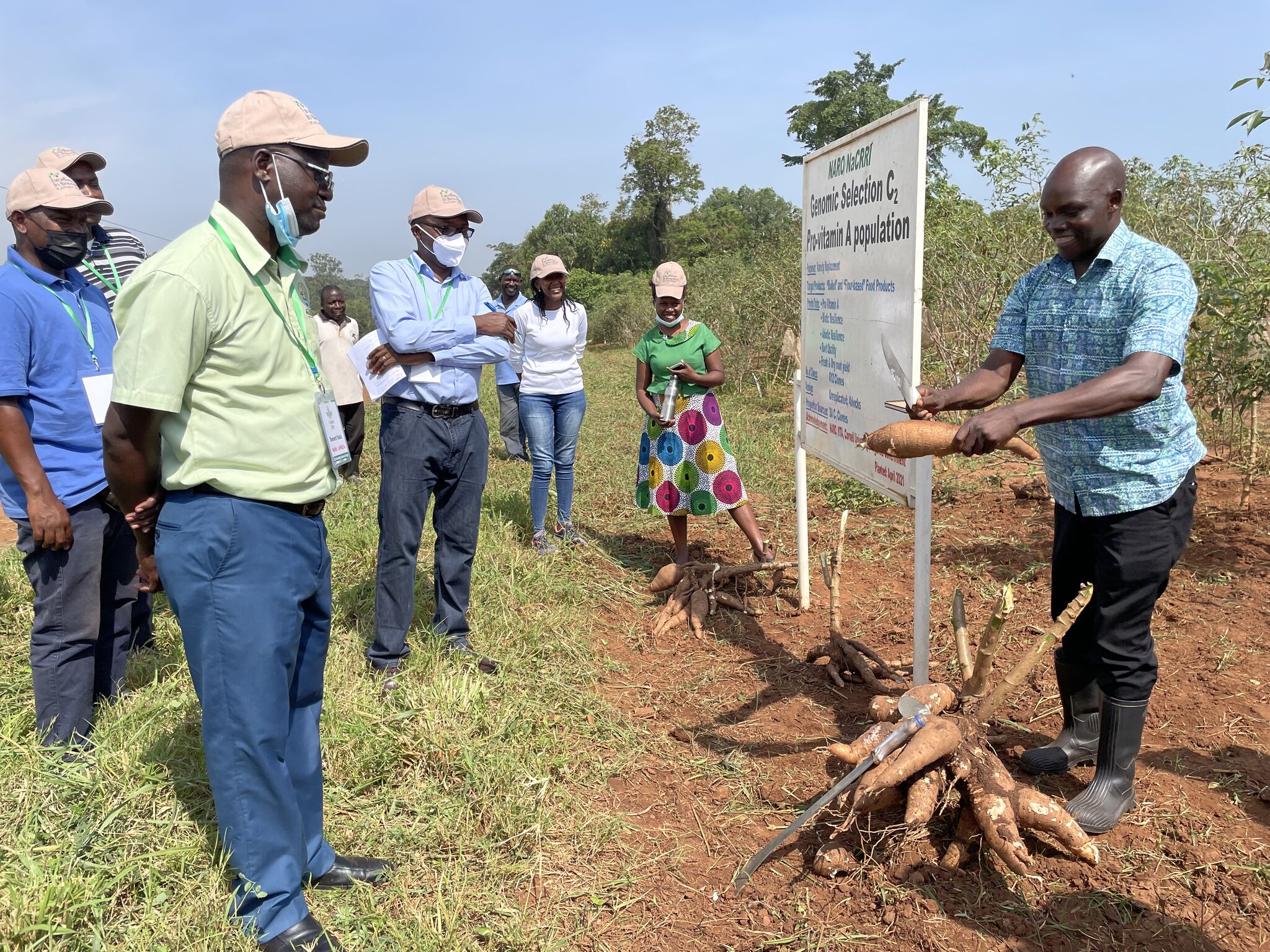 Workshop participants hear about cassava breeding approaches at NARO-NaCRRI in Uganda. Source: Adam Hunt/EiB
Improving breeding scheme design using quantitative genetics 
The breeding scheme design trainings aim to increase the skillset of plant breeders to design effective breeding schemes using quantitative genetics. They focus on helping crop breeders improve breeding programs, consider farmers' and consumers' needs, and improve design through computer simulations. Meanwhile, the breeding operations workshops facilitated operations teams to develop action plans to improve their stations. 
In his welcome address for the Nigeria sessions, IITA Director for the West Africa Hub, Michael Abberton, encouraged the participants to take advantage of the workshops to initiate new avenues for strengthening research and addressing key issues such as the availability of improved varieties to ensure food security in Africa. 
Agnes Mbugua, EiB's Seed Marketing Specialist, explained the importance of market segments in identifying specific market needs and offering solutions to create an impact. She said that since CGIAR crops are quite diverse due to the different subregions, "a common set of where and how to align the appropriate choices of the market segments should be put into consideration via prioritization."
EiB's Breeding Scheme Optimization Lead, Eduardo Covarrubias, highlighted the tools and methods used in breeding scheme design. The methods highlighted include defining the problem, measuring how to make the crossing, evaluation, and selection (CES) decisions, analyzing the problem background and possible solutions, and controlling the CES decision improvements.
Quantitative Geneticists and Simulation Specialists—Christian Werner, Marlee Labroo, and Dorcus Gemenet—covered major areas such as transmitting values to the next generation, the optimal number of parents, crosses, and progeny, recycling strategy, and management of genetic variation. The training also featured a group discussion on "Applying the breeder's equation to your program." The participants also took knowledge tours of crop fields, seed processing facilities, and greenhouses. 
Wrapping up the breeding scheme design trainings, Covarrubias recapped the activities carried out during the training. He also recommended implementing a check strategy and recording the breeding scheme in specialized software.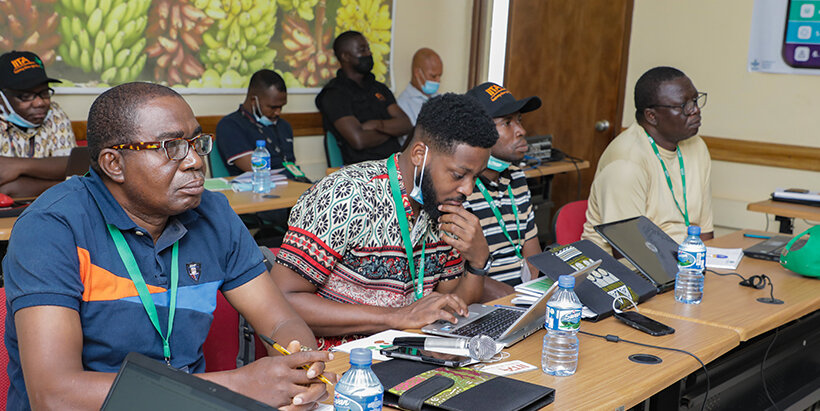 Breeding operations staff attending the "West Africa Breeding Operations" workshop in Nigeria. Source: IITA
Breeding operations across Africa 
For the concurrent breeding operations workshop, EiB's Breeding Operation Network for Development (BOND) brought together breeding operations staff to improve strategies that lead to the acceleration of mechanization, technological capacities, and skills levels. EiB underscored the principles of building a culture of excellence – implementing continuous improvement approaches to ensure operations are focused on improving the lives of farmers. 
The workshop covered topics such as moving towards centralized operations, quality management systems in breeding operations, health, safety, security and environment, plotmanship, gender inclusion, irrigation, seed processing, greenhouse management, and addressing capacity development needs. 
With the paradigm shift in operations and breeding taking place under One CGIAR, the workshops considered all components, including the activities and challenges of previous organizations and learnings from their perspectives. EiB aims to give the field workers a sense of involvement in the future.  
Systems level organization and centralization 
The EiB platform provides system-level coordination of breeding programs, a space for information sharing, collaborative learning, and access to tools and services for partners, including CGIAR research centers, NARS and the private sector. 
Head of IITA's Farm Management, Alick Mulenga,  gave an overview at both workshops and focused on operational excellence and support for breeders. The workshops also highlighted the technical work in the field, challenges faced in implementing trials for the breeders, and possible improvements. 
"One of the things we are trying to do in IITA is centralizing the breeding operations. For instance, we have identified some gaps in terms of planning. We should be proactive and start our planning ahead of time to give ourselves enough time before the onset of the season," Mulenga said. 
IITA Abuja Farm Supervisor Gabriel Adedayo, who participated in the Nigeria workshop, said the training exposed him to new perspectives, widening his view and understanding.   
The efforts are also part of EiB's work with NARES - to bring them along as equal, valuable and talented partners. "Hosting and joining this has been a great experience," commented Godfrey Asea, Director of Uganda's National Crops Resources Research Institute (NaCRRI)-Namulonge in his closing statement at the Kampala event. "Working together we are ready for big achievements."
The workshop participants and speakers came from CGIAR centers, NARS programs, and CGIAR Excellence in Breeding. EiB also trained NARS and CGIAR staff in sampling for genotyping in a two day hands-on event held concurrently in Uganda. The EiB workshop series is continuing with events in April for Latin America based CGIAR and NARS staff - cohosted by EiB's host center, the International Maize and Wheat Improvement Center (CIMMYT).
-----
Adapted by EiB communications from IITA's story. EiB thanks Bill and Melinda Gates Foundation (BMGF) and United States Agency for International Development (USAID) and other EiB partners – in particular, IITA and NARO – for their support in delivering this work.'
Photo caption 1: African breeders and operations staff examine IITA's banana fields in Uganda. Source: Adam Hunt/EiB