Videos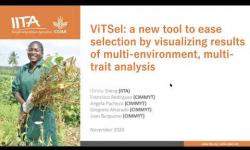 ViTSel: A new decision support tool to facilitate selection in breeding
Webinar recording | 4/11/2020
In this Story of Excellence, Ibnou Deng (IITA) introduces ViTSel, the Visualization Tool for Selection. ViTSel was developed between IITA and CIMMYT as part of the EiB-sponsored breeding informatics sabbatical program and supports selection in breeding by visualizing results of a multi-environmental, multi-trait analysis.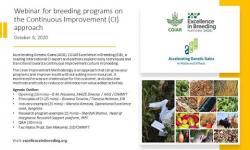 Webinar reveals approaches for breeders to save time and money, cut waste – and deliver for clients
Webinar recording | 22/10/2020
A recent webinar organized by the CGIAR Excellence in Breeding Platform (EiB) and Accelerating Genetic Gains in Maize and Wheat for Improved Livelihoods (AGG), invited national agricultural research systems, seed companies, other interested breeders to explore tools, techniques and transitions toward a continuous improvement culture in breeding.