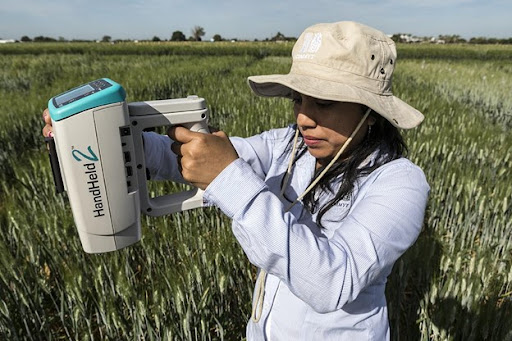 Handheld device being deployed in the wheat physiology process. Source: Alfredo Sáenz, CIMMYT
A crop breeder's relationship with technology can drive or stall progress. And in many cases, public breeding programs are playing catch-up. So, how can breeding teams accelerate new technology adoption — from data management systems to digitization equipment to genotyping tools?
CGIAR Excellence in Breeding (EiB) works with diverse teams and organizations across the global plant breeding research system — all of them grappling with their own contextual factors. Determining how to provide technology adoption support amongst all this diversity demands a thoughtful approach. Working with RTI Innovation Advisors, a business unit of RTI International, EiB set out to develop a framework to assess and drive adoption — one that is measurable, replicable, and inclusive across the adoption process.
"Often when we think about technology adoption, we go all the way to the end user," says Gustavo Teixeira, who leads EiB's Operations and Phenotyping support module. "But there are a number of individuals who have to accept a particular technology — key leaders, managers, influencers — before it reaches the end user. If we can understand and address their circumstances, then we set up the end user for success."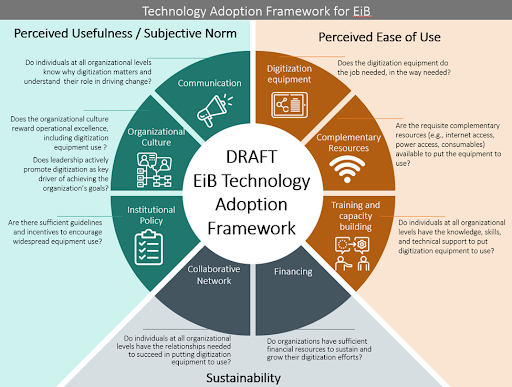 EiB's draft framework for technology adoption. Source: RTI International
The framework is organized around three core facets of technology adoption. The first key focus is perceived usefulness, or — how useful the technology seems to be for one's job and professional development. To strengthen the perceived usefulness of a specific technology, proponents need to focus on three areas: communications, organizational culture and institutional policy. Secondly, perceived ease of use of the technology is also vital, including the equipment itself, complementary resources such as Internet or power access, and capacity building. The final area is sustainability, which examines the relationships and resources needed to ensure adoption is deep and long-term. Using the framework with a particular organization, implementers can identify adoption barriers and map out how to move forward.
Understanding current adoption barriers
EiB first set out to better understand the current state of adoption and barriers to adoption facing users. RTI ran a baseline survey and conducted interviews with CGIAR and partner National Agricultural Research and Extension Services (NARES). The focus was primarily on digitization equipment such as seed counters, label printers, handheld data collectors, tablets and package printers. But the results really shed light on other adoptions as well.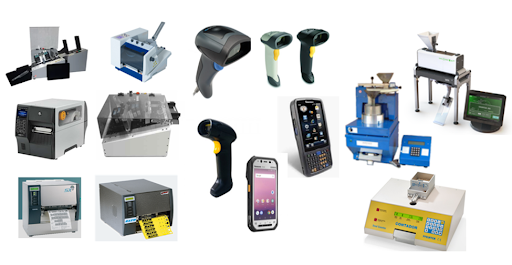 Digitization devices that improve the effectiveness and efficiency of breeding. Source: EiB
The research found that barriers faced by CGIAR teams tend to be more technological, whereas, for NARES, they are more people and organizationally oriented.
CGIAR respondents identified procurement and logistics as an issue, particularly pandemic impacted equipment deliveries and facility access. Many felt centralized services were lacking.
CGIAR breeders mentioned staffing as an issue. Breeders are sometimes too occupied with administrative tasks; respondents noted their perception that organizations are not dedicating enough resources to the digitization process. Because of heavy work requirements, not enough people receive training to do their work in the field.
NARES respondents described a slightly different set of barriers — particularly culture. For some users, a change of mindset is needed: getting used to doing something differently is still uncomfortable. Leadership buy-in is sometimes a challenge, but once leaders understand the technology, it's easier for the technicians to employ it. Some also fear losing their jobs to technology.
CGIAR and NARES staff identified a number of shared adoption barriers. These included a lack of technical support for equipment and software, limited internet access and connectivity, and a lack of good data storage systems. There is often insufficient digital equipment such as handheld devices (which have since been supplied more broadly through EiB). Both CGIAR and NARES respondents identified a need for field-compliant equipment training – supplied with the right timing, customization, frequency and quality.
From assessment to strategy: Using the framework to improve adoption
Using key insights derived from the baseline survey, user interviews, and a body of established technology adoption research, RTI Innovation Advisors developed the EiB technology adoption framework. The framework and assessment rubric provides EiB and other implementers with a holistic perspective on what is enabling, and what might be holding back, technology adoption in specific organizations.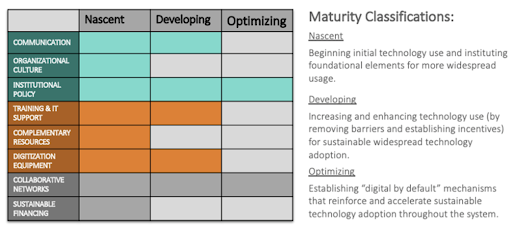 The framework's assessment tools can be used to guide next steps. Source: RTI International
"We encourage EiB and the CGIAR to use this framework as a qualitative diagnostic of the many factors that matter for technology adoption," says RTI Innovation Advisor Amanda Rose. "These tools are designed to help EiB and CG leaders step back and consider — What is enabling technology adoption within this organization? Where is there room for improvement? What needs to happen next to accelerate progress?"
Building off the research, the team recommended multiple actions. For NARES, the key seems to be managing organizational change, including: 
Strong leadership with inherent buy-in for technology-enabled improvements 

Adoption of strong policies, standardized systems and improved procurement processes.

Increased funding to expand and accelerate efforts


Increased access to the equipment, complementary resources such as Internet connectivity, as well as dedicated IT support to push efforts forward
CGIAR programs also have opportunities to decrease barriers to adoption via: 
Increased leadership commitment to, motivation to support, and knowledge of digitization technologies

Expanded communication and awareness-raising efforts among all staff

Enhanced training and equipment access, including proactive training for technicians

Dedicated budget to increase staff support and equipment supplies
The ultimate goal is to ensure that technology and digitization become the default throughout CGIAR and NARES breeding programs. And to ensure there are system-wide practices and support mechanisms in place to support the full network's modernization efforts. 
Since the research, EiB has been providing digitization equipment and training to partners, as well as internet and other upgrades. EiB team also is preparing to use the feedback data and the framework to assess particular programs and develop plans to help them advance technology adoption efforts.
Through helping partners get the right equipment, receive the right training, and adopt the right mindsets, the future looks bright for a technological step-change in public breeding.
References: 
Adner, R. The Wide Lens (Penguin Group, 2013)

Borkovich et al. (2015) New Technology Adoption: Embracing Cultural Influences. Issues in Information Systems. Volume 16 Issue III: 138-147.

Davis, F. D. (1989). Perceived Usefulness, Perceived Ease of Use, and User Acceptance of Information Technology. MIS Quarterly, 13(3), 319–340.

Greenhaugh et al. (2017). Beyond Adoption: A New Framework for Theorizing and Evaluating Non-adoption, Abandonment, and Challenges to the Scale-Up, Spread, and Sustainability of Health and Care Technologies. Journal of Medical Research. 19(11): e367.

Lippert, S. K. and Davis, M. (2006) "A Conceptual Model Integrating Trust into Planned Change Activities to Enhance Technology Adoption Behavior" 
-----
Story by Adam Hunt, EiB Communications Lead. Contents reflect the information and views of the authors/quoted individuals only. EiB and partners are supported by CGIAR Trust Fund Contributors and the Crops to End Hunger initiative, via the Bill and Melinda Gates Foundation, GIZ, BMZ, USAID, UK Aid, ACIAR and other partners.
EiB thanks the RTI International team – Ciara Coughlin, Tawanda Muzinghi, and Amanda Rose – for their contributions to this effort.