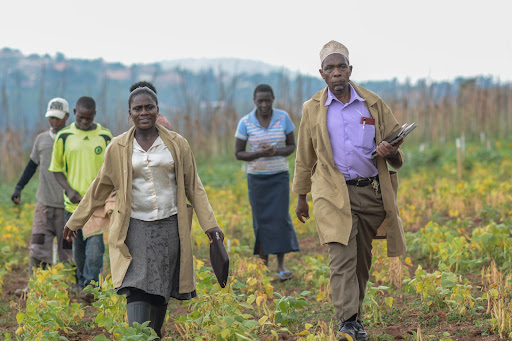 Both science and agriculture are often male-dominated. But this is starting to change as women take on stronger roles in science and farm management – and organizations commit to real progress.
In breeding operations, women have been marginalized all too often. But CGIAR and its national partners are starting to change this. CGIAR Excellence in Breeding aims to be a catalyst for change by working with its partners to make farming operations more gender inclusive.  
EiB's Breeding Operation Network for Development (BOND), working with International Institute of Tropical Agriculture (IITA) Gender Scientist Martina Cavicchioli, has developed an assessment checklist tool to help human resources, managers and staffers working in breeding research institutions assess and make progress on gender inclusion within their organization. The tool was developed through feedback from national agricultural research and extension systems (NARES) and CGIAR partners during sessions at EiB's West Africa and East & Southern Africa breeding operations workshops.
There are five key areas where farm operation stations can improve gender inclusion:
1. Work organization: gender specialists and continuous dialogue
When it comes to a team's decision-making processes, male and female inclusion is vital for a cooperative and gender-inclusive environment. According to CGIAR Research on Roots, Tubers and Bananas (RTB)'s research report, one key step for successful gender inclusion within a breeding team is "by cultivating gender awareness through cross-disciplinary dialogue, gender training targeted to breeding programs, and incorporation of a gender specialist into breeding teams." 
For instance, steps like incorporating male and female gender specialists can ensure gender-inclusive training activities that break the barriers of a dominant "macho culture." Cavicchioli – who ran the EiB workshop sessions – is a prime example of why "more gender specialists would be really helpful…in the design of these activities." 
2. Work equipment: invest in the right equipment and training
Gender bias can manifest itself by having executive leaders choose men to perform farming operations procedures that are perceived as more "dangerous" or "physically-intensive." 
"Stations should lead by example and invest in farming equipment that both men and women can use. That could inspire farmers as well," says Gustavo Teixeira, lead of EiB's breeding operations module and operations support within the new Breeding Resources Initiative. "They also need appropriate training to ensure women can use the equipment."
Understanding the constraints women face with specific equipment is vital. Progress takes investment in the right equipment and training, and in creating an open space for women to discuss their farming equipment challenges.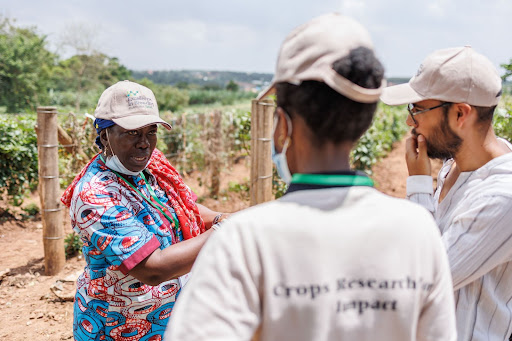 Source: CGIAR Excellence in Breeding
3. Infrastructure: improve accessibility
The unfortunate reality for men and women with physical disabilities is that work environments do not always cater to their physical needs. By providing designated parking spaces, accessible bathrooms, ramps and elevators, farming operation teams can increase their workers' productivity and satisfaction.
Farming operation facilities can also include female-friendly facility bathrooms with sanitary bins, hooks to hang belongings, dressing rooms, nurseries for nursing mothers, and other privacy measures. The checklist tool can help ensure that female necessities are met and maintained.
4. Capacity development: ensure training and role models
Everyone deserves to work in a healthy environment. Capacity and leadership training and mentorship are crucial to ensure this happens. Training topics should include innovative agricultural technology training for women, discussions with staff around common gender stereotypes, leadership and conflict resolution with a special focus on gender discrimination and sexual harassment. 
Ensuring female role models are included in training design and management roles is also crucial, as it creates a space for both genders to gain the confidence to freely voice their opinions without the fear of being judged. Christabell Nachilima, a research associate for IITA in Zambia, shared her experience as the only female in a farming operations station in the EiB workshops: "I enjoy people trusting me and not limiting me because I'm a female." The telling and sharing of personal stories of female empowerment in breeding operation workshops can help women feel seen and heard by their peers. 
Everyone should be made aware that gender equity is beneficial to both women and men. And gender-inclusive activities should not limit their target to women. In fact, "it's very important that men also engage and become champions in gender equality," advocates Cavicchioli. Men should equally participate in trainings and activities on sensitization about existing gender issues and respective policies. This is essential to the success of any gender-inclusive measure. 
5. Compliance: implement good policies – and follow them
Implementing policies that promote gender inclusion is the key to guaranteeing that farming stations meet their gender inclusivity requirements. For example, for women and men with children, not having a flexible schedule can be crippling. However, policies that support a flexible work-life balance can lift the burden for parents that face the reality of juggling their job with their home life. 
Other vital policies include: ensuring equal pay for equal work, conducting blinded interviews to ensure there is no gender bias in recruitment, identifying and developing gender-focal individuals to lead gender initiatives, and establishing safe avenues for employees to voice their concerns. 
Finally, organizations need to make sure the policies are reviewed, improved and complied with.
The road to a gender-equal workplace
There's still a long way to go until breeding operations reach full gender inclusion. However, with advocacy, policy implementation, and the empowerment of marginalized groups, research stations can be inclusive for everyone. Overcoming the barriers of gender inequality requires all of us to act against the inequalities. Both men and women can make a difference in changing stations from languishing "in a man's world," to flourishing in an open space that is a catalyst for change.
Resources: 
—
Main photo: Alliance of Biodiversity International and CIAT
Story by Misha Nicholas, EiB Junior Communications Consultant with Gustavo Teixeira (EiB), Martina Cavicchioli (IITA) and Adam Hunt (EiB). Special thanks to EiB project funders including the Bill & Melinda Gates Foundation (BMGF), the Foreign, Commonwealth & Development Office (FCDO), the United States Agency for International Development (USAID), the German Agency for International Cooperation (GIZ), the Federal Ministry for Economic Cooperation and Development (BMZ Germany), the Australian Centre for International Agricultural Research (ACIAR) and our partners.