There is an urgent need for public breeding programs to prioritize and focus their efforts. Excellence in Breeding (EiB) is working with CGIAR partners to identify market segments and align breeding pipelines to them — with the goal of increasing food security and improving livelihoods.
Since the Green Revolution, public crop breeding programs have been expanding across the globe. But expansion has not always been targeted toward the greatest impact or well-coordinated between breeding programs. As CGIAR moves toward an integrated One CGIAR, there is an urgent need to review the focus of breeding pipelines operating across its array of partner Centers. This will help breeding programs deliver even higher returns on investment. EiB is leading this review.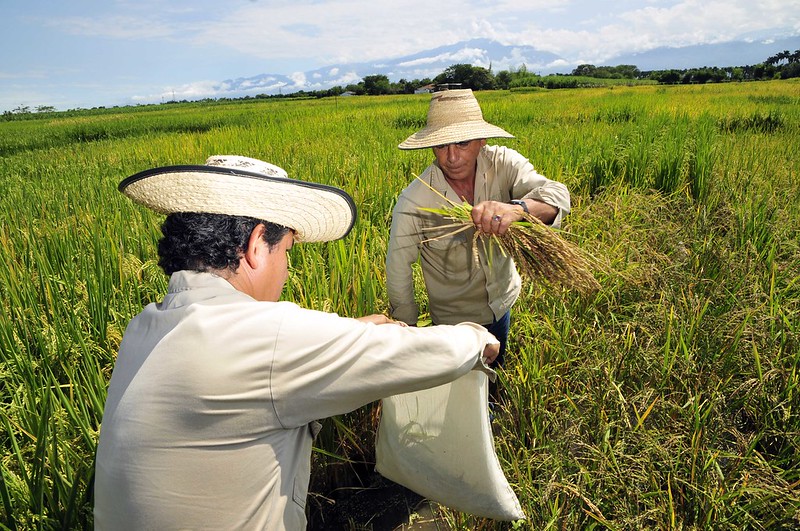 Harvesting bio-fortified rice. Pic by Neil Palmer (CIAT).
The first phase of EiB's effort identifies today's market segments and describes the 'opportunity; that exists in each market segment. The second phase will focus on improving the processes used and broadening participation to define and describe future market segments, and to document the target product profile for each market segment.
Bottomline, this effort will result in focusing investment on creating seed products that will positively impact millions of people in low and middle-income countries.
Identifying and describing market segments
EiB's first step was to develop a common definition of a market segment and a pipeline. Then EiB in partnership with breeding leads identified current market segments for the 26 crops in the CGIAR network. One CGIAR subregions such as East Africa, Southern Africa and South Asia were chosen as the level of 'region' to work at. Within a region, each market segment represents a unique combination of consumer and grower needs.
The consumer needs considered were use, color, grain/flesh type, aroma and nutritional value of the product. The grower needs considered were production system (e.g. transplanted or direct seeded rice), input level (e.g. irrigated vs. dryland) and maturity. The analysis identified 320 unique market segments.
Next EiB described each market segment by documenting countries and agroecological zones, hectares grown, average yield and average selling price of the product. In addition, total population, rural population, and the population within the market segment footprint were determined, as well as the number of people in poverty and the number undernourished.
"This data provides a description of the 'opportunity' that exists within each market segment," explains Jason Donovan, EiB's Strategic Crop Market Economist.
As an example, EiB in partnership with the International Rice Research Institute (IRRI) and AfricaRice worked to identify and understand the needs of rice consumers and growers in order to determine the unique market segments.
By One CGIAR subregion, they looked at consumer needs such as grain type (long, medium or short grain), grain hardness (hard or soft grain) growers' needs such as maturity (early, medium or late), the ecological system the grower is producing in (e.g. lowland rainfed, lowland irrigated, upland or deep-water rice) and the production system used by the grower (e.g. transplanted or direct seeded).
This analysis found 51 rice market segments in the regions served by IRRI and 33 in the regions served by AfricaRice.
Aligning breeding pipelines with market segments
In parallel to identifying and describing current market segments, EiB set out to understand breeding pipelines with the goal of aligning each pipeline to one or more market segments.
EiB identified 120 breeding pipelines across crops and CGIAR centers. The data indicated that not all market segments were aligned with a breeding pipeline and that many breeding pipelines were aligned to several market segments. This may indicate some missed investment opportunities and/or that current resources are spread very thinly across multiple market segments.
In the case of rice, nine IRRI breeding pipelines currently design, develop and deliver products for 24 of the 51 market segments, with some pipelines serving five market segments. AfricaRice currently has six breeding pipelines focused on 33 market segments.
Pipeline investment cases target opportunities for impact
EiB analysts are now turning to developing 'pipeline investment cases' that assess the level of investment in a breeding pipeline versus the potential of the pipeline to make an impact. By examining the levels of investment per person, per person in poverty, and other breakdowns, data can show if today's dollars are allocated appropriately – or if CGIAR and donors should shift investments to target pipelines focused on different market segments.
Graphic by Peter Coaldrake
Showing results and next steps
These are new concepts for public breeding efforts and there are opportunities to improve and align the inconsistent approaches used in the past among organizations, crops and regions.
"It will take time to keep building buy-in, to show the benefits, and to ensure sure everyone is using the same approaches," explains EiB's Peter Coaldrake, who oversees the work under his Product Design and Management module. "For example, some crops only involved breeding teams to identify and describe market segments. While others engaged social scientists, gender specialists, economists and others – EiB advocates the latter."
Phase two of this effort will be more robust, inclusive, and forward looking. The team aims to significantly improve the processes to predict and describe the regional market segments that will exist 10 years from now.
This work will expand stakeholders by drawing on a much broader set of experts such as gender specialists, social economists, nutritionists, climate change experts, crop modelers, food scientists' food and grain processors and companies selling to consumers. The output will be used to identify and describe the opportunity that will exist in future market segments, to define target product profiles, and to align breeding pipelines with the market segments that have the greatest opportunity for impact.
This effort will also drive the identification of key metrics to monitor the progress of a pipeline in a consistent way. The team will also work with national agricultural research services (NARS) to help them use this data to strengthen and focus their programs.
"CGIAR is creating an evergreen set of data that will be continually reviewed and updated to guide public sector breeding," says Agnes Mbugua-Gitonga, EiB's Seed Marketing Specialist. "We can make sure the right products are developed for the market segments with the greatest opportunity to improve food security and livelihoods.
The first round of data will soon be presented to CGIAR partners and funders. The next phase will provide the needed processes and collect the data required to inform One CGIAR, especially the Genetic Innovations team and funders to ensure breeding pipeline investments are aligned with future opportunities.
Key terms:
Market segment: a regional market opportunity based on a unique combination of grower and consumer driven requirements
Target product profile: the set of key traits required in the ideal product for a market segment in order to meet and/or exceed "grower and consumer" needs.
Breeding pipeline: the sum of the research efforts focused on a given market segment or group of market segments.
-----
Story by Adam Hunt, EiB Communications lead and Peter Coaldrake, Product Design and Management module lead. Contents reflect the information and views of the authors only. EiB and partners are supported by CGIAR Trust Fund Contributors and the Crops to End Hunger initiative, via the Bill and Melinda Gates Foundation, GIZ, BMZ, USAID, UK Aid, ACIAR and other partners.