Through "sharing excellence" across programs and geographies, crop breeders are ready to deliver higher rates of genetic gain and varietal turnover. This was the theme of November 10-12's Excellence in Breeding (EiB) Virtual Meeting 2020, where nearly 250 breeders and leaders came together to share principles, successes and opportunities. 
The event kicked off with EiB Director Michael Quinn and Deputy Director Jan Debaene reiterating that the breeding program modernization efforts in CGIAR require us to implement change – which, they noted, is hard!
"To be successful, a change initiative needs clear lines of accountability, sponsorship – particularly from senior leadership, technical support, financial support, standards and a unified platform," Debaene told attendees to open the Western time zone sessions. "We can do this together."
Sessions can be viewed on the event's Youtube playlist 
EiB has tools and services to support these needs, and has been delivering them through holistic partnerships, along with coordination at the systems level. 
Over 12 breakout sessions, each of EiB's interlinked modules laid out their vision, challenges, and services to breeding partners. For example, Young Wha Lee described how her Breeding Informatics module team will be releasing a one-stop data management platform called the Enterprise Breeding System (EBS), so that breeders can focus on using data to create better varieties, faster. 
Videos of the module breakout sessions can be viewed here: 
Notable among module highlights is the advancement of shared services that can be accessed by CGIAR and NARS breeding partners. These include genotyping, mechanization networks, operational alliances, biometrics and simulation services. The EiB team explained how partners can access and help build these services in two Shared Services sessions. The team also laid out how together with partners they are appraising the most effective way to set up regional multi-crop research hubs with Crops to End Hunger (CtEH) investment.
Meeting participants were drawn from across the breeding spectrum, including CGIAR breeding partners, NARS, funders, university researchers, and private sector breeding partners. This represents the broad coalition that EiB is bringing together to share best practices and services.
"We are all part of CGIAR-NARS breeding modernization initiative," said Quinn. "We each have a role. Breeding leads are accountable for their plans and implementation strategy, breeding teams for implementation, EiB for technical support, tools and services."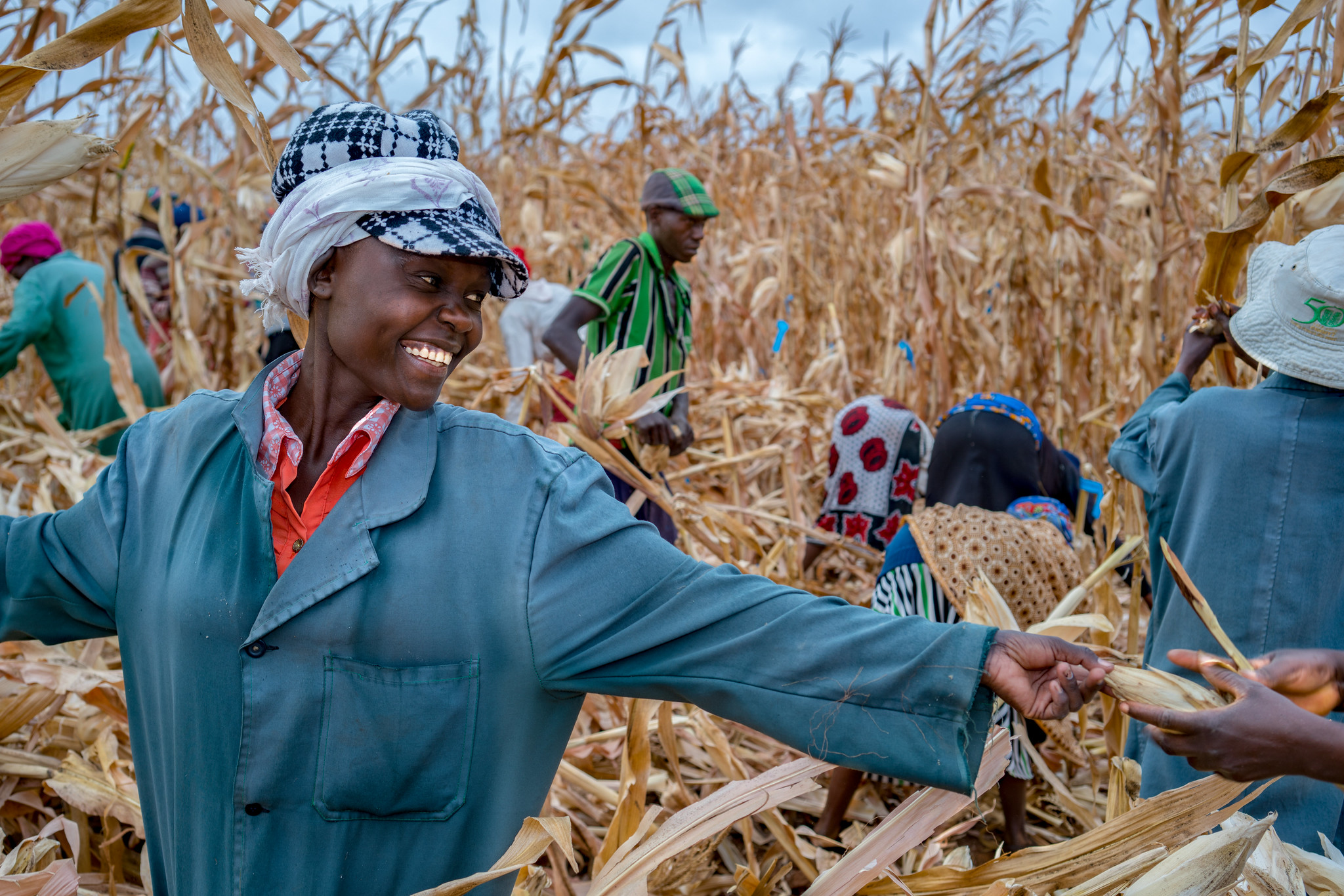 Photo: Harvesting maize trials at KALRO Kiboko Research Station, Makueni. KALRO presented as a Story of Excellence. Source CIMMYT/ Peter Lowe
The highlight of the week may have been Stories of Excellence presentations. Partners submitted 28 stories of innovations and accomplishments achieved with support from EiB teams and tools. After a weeklong vote from global breeding partners, eleven were selected to present live or via the event's expo booths. Presentations can be viewed here: 
It's this kind of work that will help CGIAR/NARS deliver on the six funders' requests, made through the CtEH project. In order to deliver better and faster results to farmers' fields, funders are requesting:
Aligning breeding pipelines with market segments, development of pipeline investment cases, product profiles, etc.

Increased rate of genetic gain.

Incentivization of breeding teams and individuals aligned with genetic gain and variety turn-over

Building NARS breeding networks and capacity.

Effective delivery mechanism of varieties from breeding program to farmers.

Commitment to shared services.
Based on evidence cited throughout the week, the EiB coalition of CGIAR, NARS, university and private sector partners seems up to the task. And it's a task made even more pressing, given the One CGIAR initiative is reformulating the CGIAR for greater integration and impact. EiB's role is helping build toward those goals. As a panel of CGIAR breeding leaders, NARS and funders (including USAID and the Gates Foundation) expressed, those who start implementing change now, will have the advantage.
"I'm hoping people can walk away from this week remembering we need to focus on the science and on delivering high rates of genetic gain," said Quinn. "We all will have a role to play in this."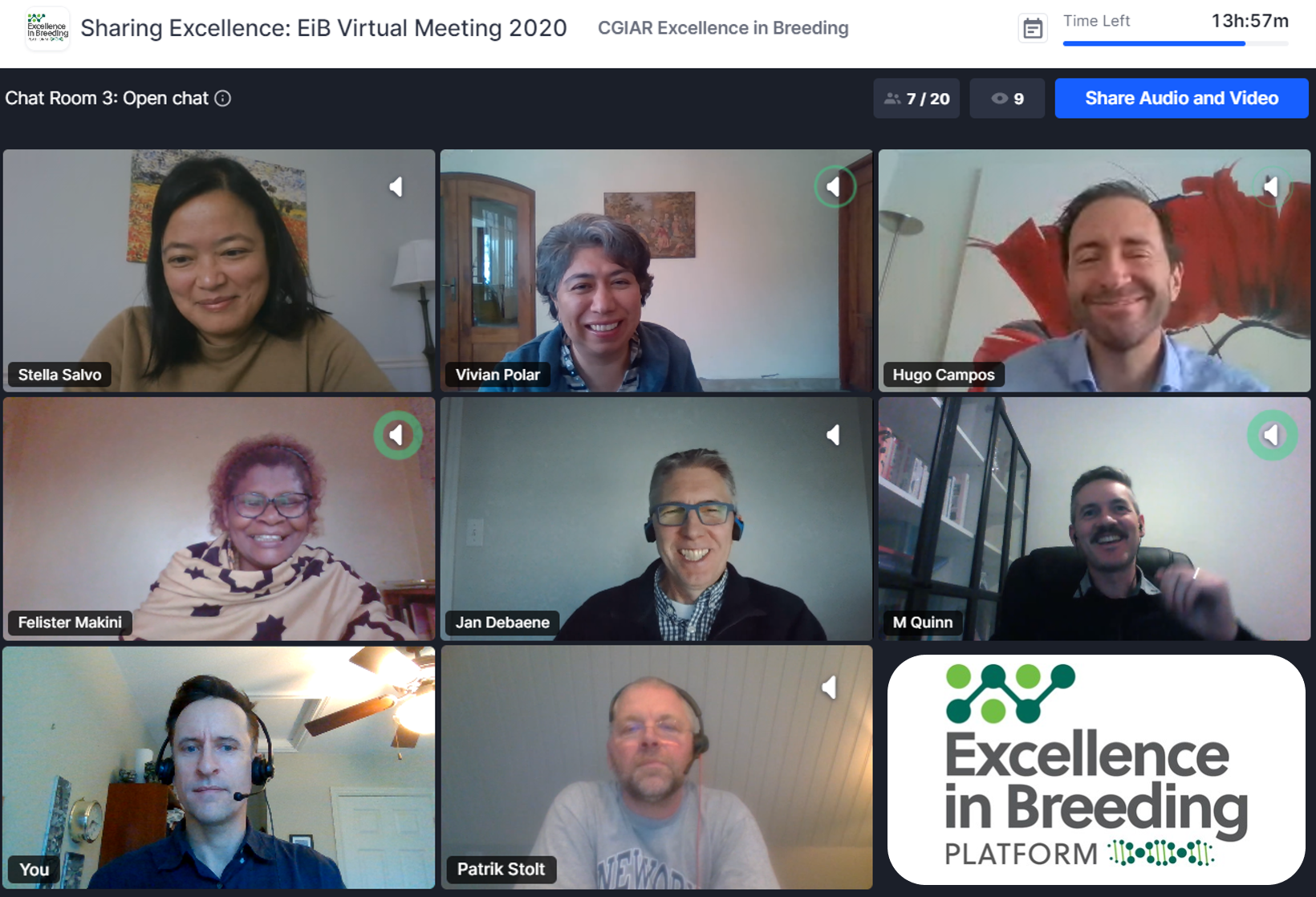 Photo: One of the services EiB offers partners is simulation. Here is a simulation of coffee breek networking at Virtual Meeting 2020 (Source: A Hunt, EiB)
A special thank you to our partner and funders including CGIAR Trust Fund Contributors, the Crops to End Hunger initiative, the Bill and Melinda Gates Foundation, GIZ, BMZ, USAID, UK Aid, ACIAR and other partners. 
---
For a full list of session videos and presentation slides, please see EiB Virtual Meeting 2020: Sharing Excellence. If you joined, please take this short feedback SURVEY to help EiB plan future events.This blog reflects the information and views of the authors only. EiB and partners are supported by CGIAR Trust Fund Contributors, the Crops to End Hunger initiative, the Bill and Melinda Gates Foundation, GIZ, BMZ, USAID, UK Aid, ACIAR and other partners. Blog by Adam Hunt, EiB communications lead.