Public breeding operations teams serving lower income countries need to upgrade their skills and tools, optimize their programs, and deliver better varieties, faster. CGIAR's new Breeding Operations Network for Development (BOND) is ready to make the connections.
Food demand is expected to double by 2050 in low-income countries. Meanwhile new climate realities are threatening output. This means smallholder farmers in these regions -- those often suffering from lack of resources and production challenges -- will need to increase their yields faster than the demand for their products.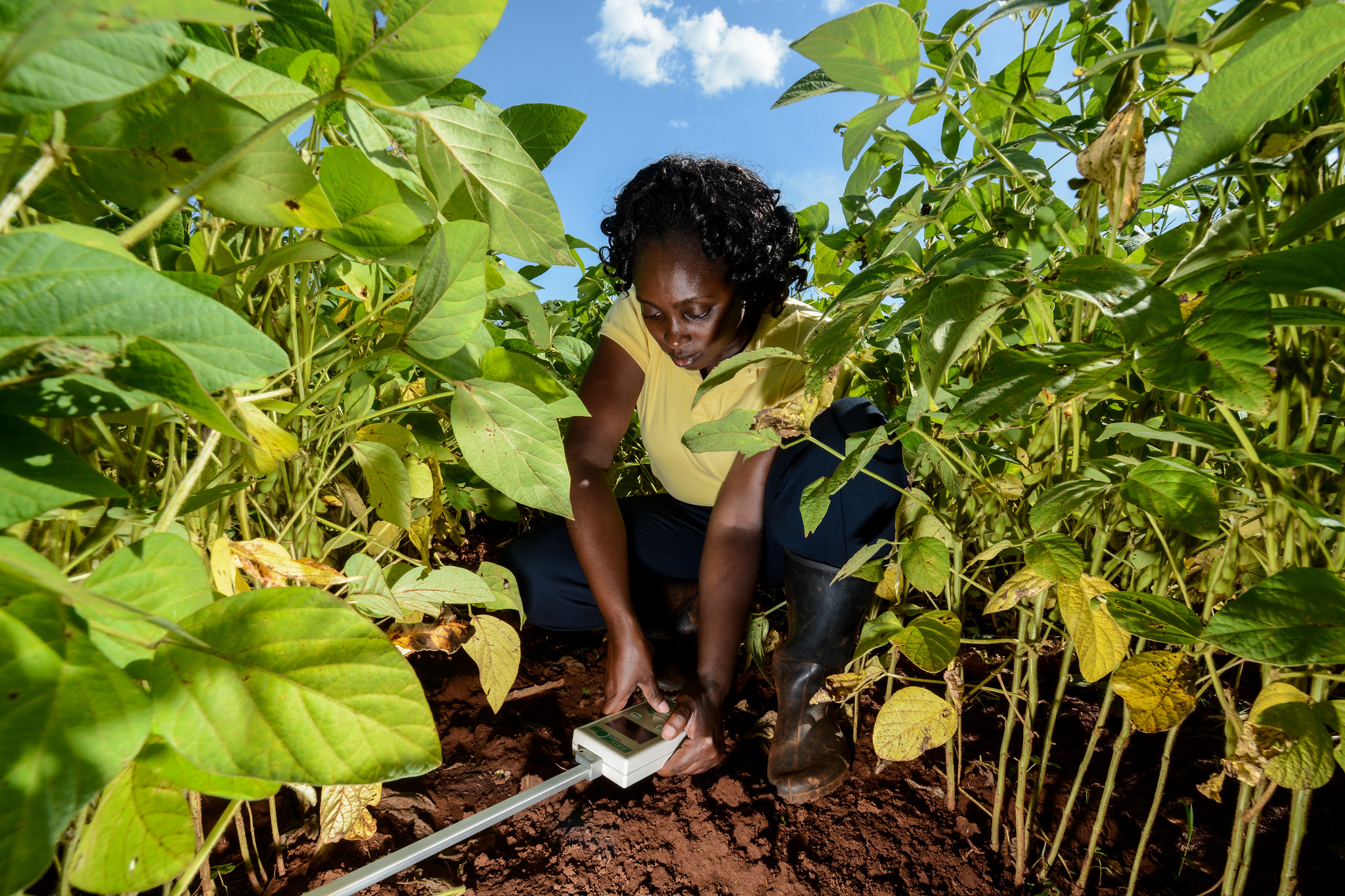 Photo Credit: G. Smith, CIAT
Of course, there is no one solution. Many things need to be in place: access to market mechanisms, financial instruments, and access to various agronomic services and inputs. And critical to this is new crop varieties with the capacity to deliver higher yields adapted to new climate conditions.
Breeding programs will need to deliver new varieties timed to the rhythm of food demand as these regions grow. This means existing programs must improve their current capacity to deliver. The fundamental cornerstone for any breeding program is the quality of their fields -- there is no successful breeding program without good data, and there is no good data without good field operations.
Field operations comprise a range of areas, from material handling to irrigation, from soil management to machinery maintenance. Even though every crop has their own operational specificity, they share the fundamentals. 
For instance, let's look at storage. Good practices to store maize also apply to storing beans or rice. Ways in which breeding teams organize the cold storage, containers or envelopes wouldn't change significantly from crop to crop. Also, the parameters that need to be monitored to guarantee the proper storage conditions are the same  -- basically temperature and humidity. 
And the concepts on how to manage irrigation are similar for maize, millets or potatoes. Breeding teams need to ensure that irrigation practices match the ultimate breeding target, either to manage a simple nursery or to screen for drought . They need access to the best protocols – such as those around drought stress – and training on how to follow them. And they need to use the best conservation agriculture practices such as zero tillage, to reduce evapotranspiration.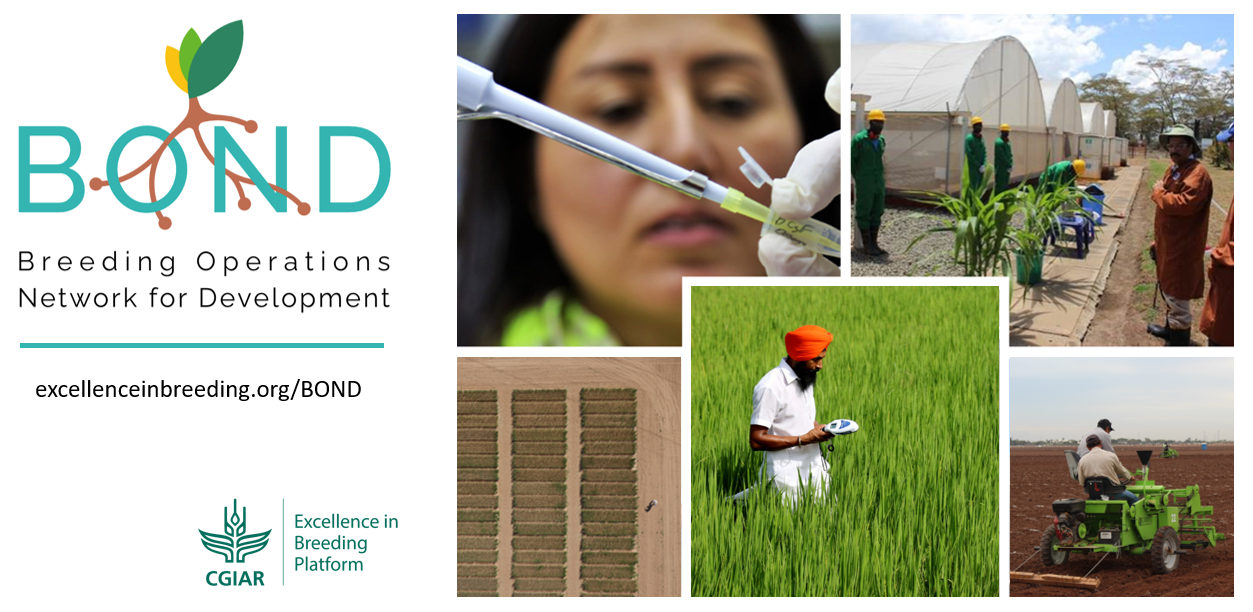 The new Breeding Operation Network for Development (BOND) helps experts learn about, co-develop and implement breeding operations best practices.
The same can be said for soil management – each station or crop may need different tactics, but the guiding principles are universal. Breeders must breed for conditions similar to the target population environment (TPE). They need to understand the TPE's soil characteristics, such as nutrient deficiencies or high salinity levels.  And they must adopt the most sustainable agronomic practices, both at the station and passed along to farmers. 
Another example is genotyping. Advances in genomics provide new opportunities to accelerate gene and trait discovery – and enhance breeding outputs. Programs need to harness this technology and combine efforts by accessing shared genotyping services.
It is true that operational practices depend on the cultural aspects, for instance the adoption of tillage practices by breeding programs needs to align with the agronomic practices used by farmers in that specific region. However, knowledge is transferable. There are always opportunities to adopt good practices from one region to another region.
With these practices in mind, breeding programs have three strategic challenges: 
Breeding programs need to deliver more: with the growing demands for food and increasing resource and climate challenges, breeders must deliver the highest possible rate of genetic gains in farmers' fields. The need to continually develop nutritious, climate-resilient, market-demanded cultivars is only growing. Breeding outputs must grow in tandem.

Breeding operation needs to deliver more: Breeders need best practices and expertise to support breading programs across all trials. They need to harness the best breeding data platforms, access and understand how to use genotyping services, adopt smart and sustainable field operations, manage seed inventory, and more.

Opportunities to learn from other breeding programs: And to meet the above challenges, breeding programs need to share their expertise. CGIAR is the largest global network of crop breeding organizations, and has a wealth of experience across crops and regions. National programs have local knowledge and relationships, and an intimate understanding of farmer and consumer needs. And the private sector has cutting edge technologies and practices that have not always been accessible to public breeding programs.
To meet these challenges, this month CGIAR Excellence in Breeding is launching the Breeding Operation Network for Development (BOND). BOND connects breeding operations professionals across the CGIAR, national agricultural research services (NARS) and the private sector. 
The aim of the network is to connect and further professionalize CGIAR/NARS breeding operations, and develop and implement the best standard operating procedures (SOPs) among centers and programs. Through opportunities such as 1-on-1 exchanges, trainings, resources, webinars, SOP development and networking events, BOND and EiB are promoting continuous improvement in five vital breeding operations areas: phenotyping, agronomic practices, seed processing, planting and harvesting. With access to the resources and talents of the world's best breeders, members will be primed to bring their programs to the next level.
The challenges for global food security are daunting. And the need for breeders to play their role is vital. And while breeding operations challenges are long-running and complex, the expertise and technologies exist to propel their practices to the top tier. With the bonds created through BOND, we can expect that CGIAR and national breeding programs will see major acceleration in delivering the varieties needed by farmers in lower-income countries.  
----
Join EiB's official BOND launch followed by the webinar "IITA Breeding Operations & Bayer Seed Processing" on June 9. 
 Blog by EiB Breeding Operations and Phenotyping Module lead Gustavo Teixeira, with Adam Hunt, EiB Communications lead. This blog reflects the information and views of the authors only. EiB and partners are supported by CGIAR Trust Fund Contributors and the Crops to End Hunger initiative, via the Bill and Melinda Gates Foundation, GIZ, BMZ, USAID, UK Aid, ACIAR and other partners.