The impact of breeding on poverty alleviation in the developing world has been limited by low rates of adoption in farmers' fields. With the number of people going hungry in the world again on the rise we must recommit to science for impact.
Product Profiles were designed by breeders for breeders as a means to focus their activities on the development of products that will replace established varieties on the market, taking into account market knowledge and other considerations such as gender.
At its core, a Product Profile describes a variety with the necessary characteristics to replace the older varieties that still dominate a particular market. This is an important change for breeding programs focused at creating the perfect variety for a particular environment, but which is not guaranteed to have market impact. 
The profile also functions as a commitment between breeders, management and their funders, as it should be possible to develop the variety described using available materials and resources within a reasonable timeframe. The goal is to set targets based on your ambitions for breeding program modernization and acceleration.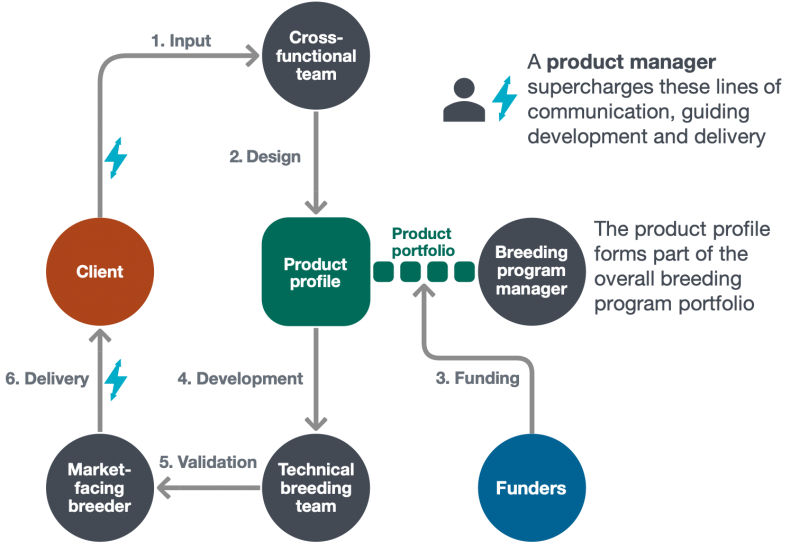 Through workshops with our partners, EiB has developed a tool to simplify the process of capturing product profiles. This is intended to support the leader of a breeding initiative to gather market-driven information from a broad group of subject experts.
High-performing breeding programs know the needs of their customers, apply cross-functional expertize to product design and implement upfront planning. In the new way of working supported by product profiles, varieties are focused on client needs rather than being a by-product of scientific research interests. As a result, the product profile tool is designed to incorporate cross-functional knowledge, such as market, breeding, crop management, socioeconomics, gender and farmer/consumer expertize. 
The profiles created provide a clear description of the characteristics of the variety to be developed within a roughly five-year timeline, making an attractive proposition for funders and allowing breeding activities and improvement plans to be streamlined towards impact-driven goals. 
However, a focus on variety replacement should not mean just breeding for incremental improvement. Though a product profile is intended to be a commitment, in practice they also help to measure progress according to an annual improvement cycle, allowing breeding programs to adjust course in good time to meet their goals and stakeholder expectations.
Resources: