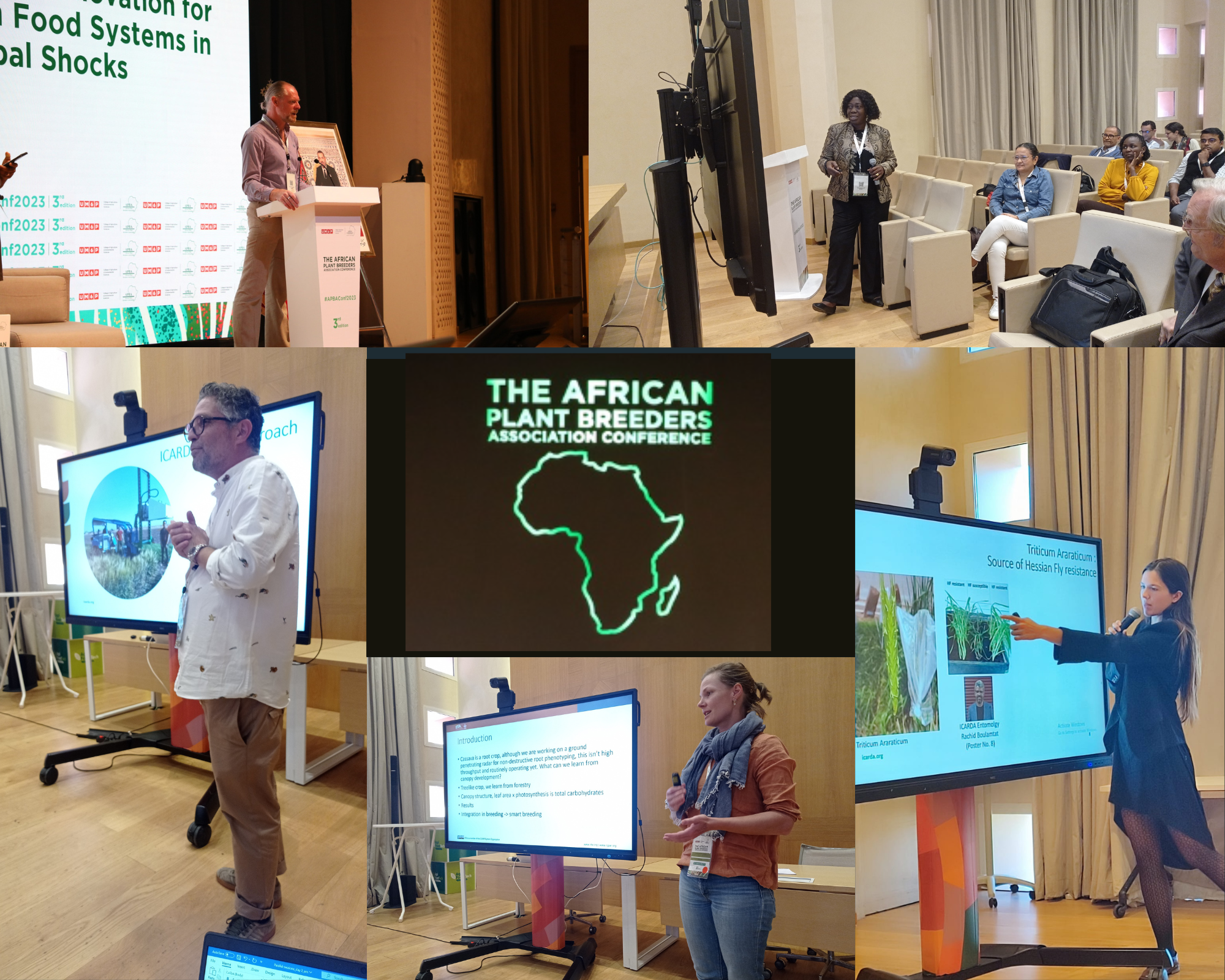 In Africa, people mostly eat what they grow, and the potential for trade and processed foods largely depends on how much they can produce. But the population is growing rapidly – by 2050, it will double. 
And at the same time, the continent is increasingly suffering from climate-related threats – with drought accounting for half of all crop losses. Additionally, most African crops are at risk, as they are old varieties, more sensitive to new pests and diseases.
So, how are plant breeders tackling these challenges? Let's take a look at five research areas CGIAR partner organizations presented during the recent African Plant Breeders Association Conference held in Marrakech at the end of October 2023.
1. Assisting breeders in making informed choices
Before the actual breeding process takes place, scientists must pinpoint the traits that matter most to farmers. This step is crucial in selecting the genotypes for breeding. 
Winnie Gimode from the Alliance of Biodiversity and CIAT specializes on cassava, a crop known for its resistance to droughts. Her team utilizes DNA fingerprinting and duplication analysis for cassava genotypes. They collaborate with a database containing over 15,000 samples from around the world, identifying the most robust varieties for upcoming breeding pipelines. 
This work helps in detecting genetic duplicates, conducting diversity studies, guiding breeders in selecting favorable parental lines, tracking the adoption of varieties by farmers, and supporting diversity assessment and conservation. It is also important for gene bank collections, to reduce redundancy and guide the prioritization of resources.
Farmers prefer early bulking varieties for their quicker yields, and so, the International Institute of Tropical Agriculture (IITA) concentrated on identifying the ideal genotypes for early and rapid bulking. Elizabeth Parkes, IITA Zambia stated: "The initial findings are promising as the genotypes we've identified would serve as parents or progenitors in our cassava breeding program". 
2. Utilizing a mix of breeding techniques
Plant breeding is a dynamic field that combines a variety of techniques. At APBA 2023, breeders emphasized the importance of using them all.
Classical breeding, combining resistant parental plants to develop better-performing child-generations, was for example used to develop ICARDA durum wheat, which shows 30% more yields. But it takes time: breeders need 10 to 15 years to fix varieties and a few more years to get them to farmers.
Marker-assisted selection enables the targeting of specific genes related to desirable traits, such as good baking quality or disease resistance. Techniques like single spike planting – which allows the plant to self-fertilize, resulting in the production of seeds with consistent and uniform genetics - or the integration of doubled haploids, have the potential to halve breeding cycles. Speed breeding, which involves extending the daily lighting time for plants to 22 hours a day, can also considerably accelerate seed development.
These techniques and more were highlighted at APBA 2023 for their roles in enhancing the precision of developing new crop varieties in a remarkably short period.
3. Finding supplements to inorganic fertilizers
In many regions of Africa, access to inorganic fertilizers is limited, which can be a problem for cereals, playing a critical role in food security on the continent. 
The conference highlighted groundbreaking research involving bacteria that colonize plant roots and facilitate nitrogen fixation. This natural process has the potential to replace up to 100% of the synthetic nitrogen typically applied to crops. Associations with nitrogen-fixing bacteria, like the ones seen in legumes such as soybeans, can deliver the totality of the plants' nitrogen needs.  
There are some practical challenges, in particular the huge technical effort to transfer this association, but potential is immense. 
4. Harnessing the power of genebanks
Genebanks, like the one at ICARDA in Rabat Morocco, preserve crop diversity and provide the "building blocks" that breeders need worldwide to develop high-yielding and climate-adapted crops. 
Crop wild relatives (CWR), the wild cousins of our cultivated crops, evolved to survive tough, diverse conditions, such as dryness and poor soils. As such, they can be a source of genetic diversity for breeders to develop more-resilient food crops. But CWR are threatened and inaccessible in the wild, thus conservation in genebanks is essential for the future of crop breeding. 
Dr. Anna Backhaus, ICARDA Morocco, explained how to use the treasures of ICARDA's Genebank with a targeted approach. "My work focuses on accelerating the identification and integration of useful CWR diversity locked up in Genebanks material", she explained. Traits of CWRs are collected, recorded, and globally available, without profit, for research and breeding. "CWR are difficult to assess, but their introgressions have immense potential," Backhaus added. 
5. Leveraging big data
Big data can help revolutionize plant breeding. Anna Van Doorn, IITA Nigeria, shared her work on quantifying cassava canopy structure with drone images.  
Van Doorn introduced the process of creating 3D point clouds (a set of data points in space) of fields by overlapping drone pictures, followed by data extraction. The results presented a mix of data with environmental insights and harvesting information. Anna explained: "With AI and machine learning techniques we can extract more information from data, and we're moving towards the ultimate level of breeding: 'smart-breeding', which mixes field measurements with environmental data to design crops that suit each unique situation".
Phenotyping is all about asking the right questions and measuring specific traits related to how a plant copes with its environment. 
Andrea Visioni is in charge of ICARDA's high throughput phenotyping (HTP), which increases selection accuracy in breeding programs. Visioni shared insights on how increasing the number of data acquisitions is vital for a deeper understanding of the growth dynamics for various phenotypes and to predict expressed traits, thus emphasizing the role of data in plant breeding work.
Since 2019, the APBA Conference has served as a platform to share insights and explore strategies for African food security. This year's edition showcased the dedication of plant breeders and CGIAR partner organizations: by identifying desired traits, using a blend of breeding techniques, harnessing genebanks' resources and adopting data-driven approaches, breeders will develop the varieties needed for a promising future on the continent.
----
Written by Julie Puech, Accelerated Breeding and Breeding Resources communications. We would like to thank all funders who support CGIAR research through their contributions to the CGIAR Trust Fund. And thank you to the supporters  and partners of CGIAR Excellence in Breeding, particularly the funding from Bill and Melinda Gates Foundation and USAID. Main image, from left to right: Giles Oldroyd, Elizabeth Parkes, Andrea Visioni, Anna Van Doorn and Anna Backhaus, at APBA 2023. Photo credit: Julie Puech, ABI/BRI/CGIAR.