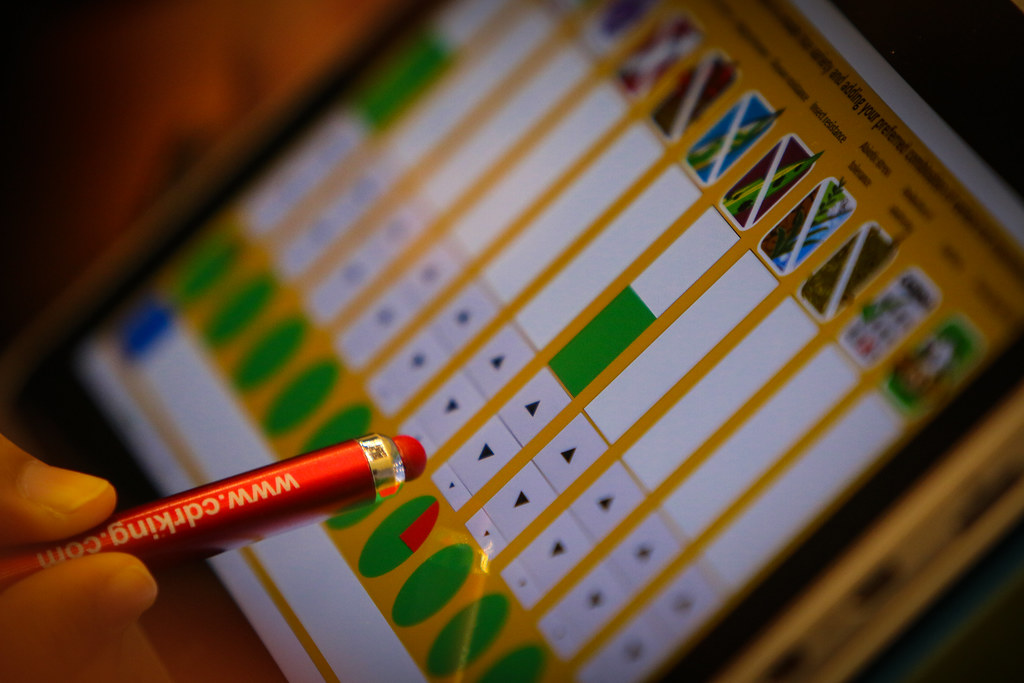 Photo Credit: IRRI.
CGIAR Excellence in Breeding (EiB) informatics lead Young Wha Lee understands that breeding "has always been — and still is — a numbers game." 
Lee and her EiB colleagues recently demonstrated to African Plant Breeders Association (APBA) Conference attendees how to best succeed in that game to ensure crop breeding contributes to solving the food insecurity puzzle. With modernized programs, breeders can help low- and middle-income countries' agriculture to thrive amidst climate change. 
EiB's APBA workshop on "How to set up a modern plant breeding program," and the team's contributions to plenary sessions, highlighted key factors in the breeding numbers game's formula (watch the session here).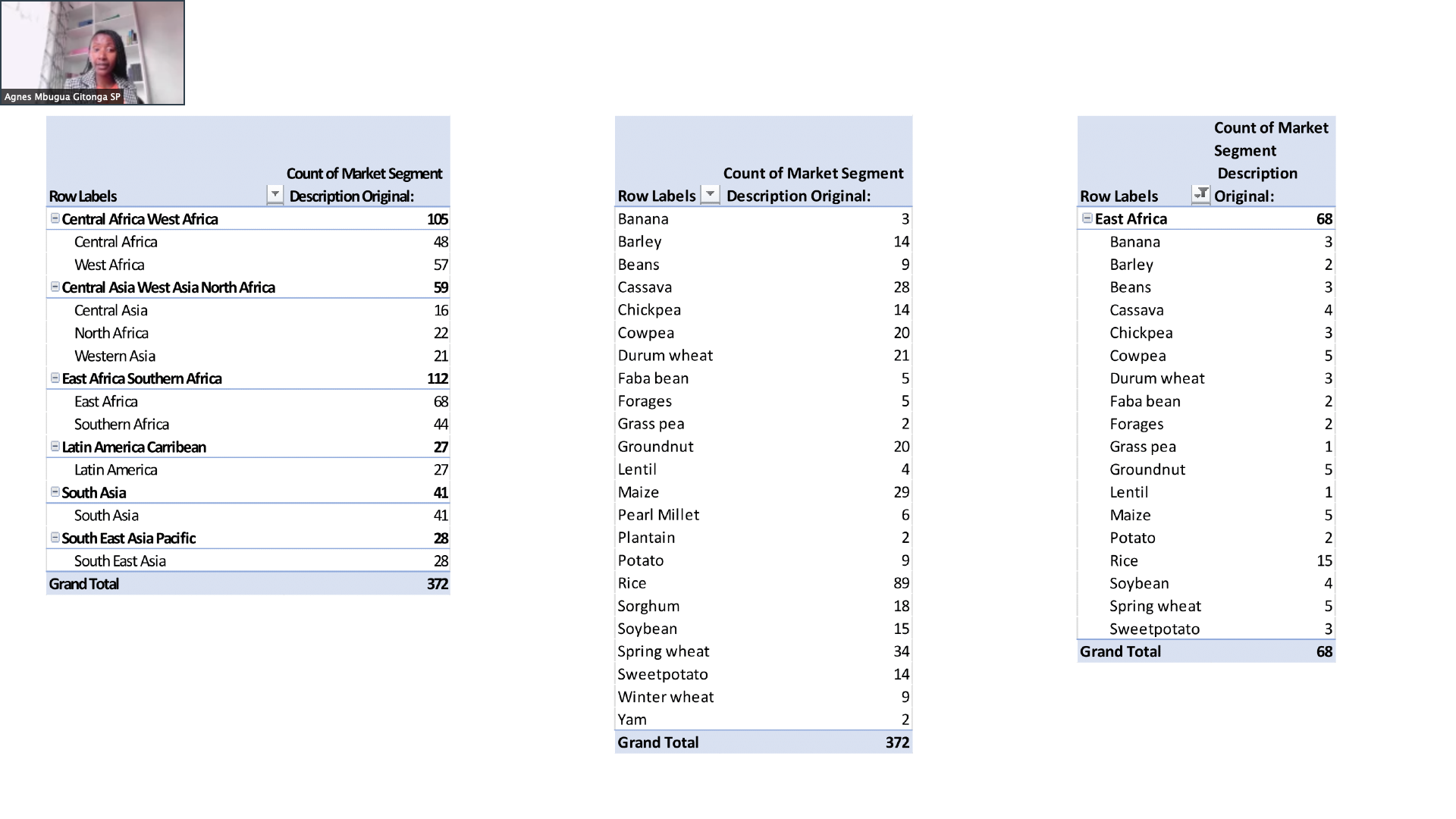 Agnes Gitonga, EiB's marketing strategist, explains how the organization's various market segments serve a role in developing strong product profiles.
Understand your breeding market's needs
Agnes Gitonga, EiB's marketing strategist, highlighted the importance of integrating breeding pipelines, market segments and targeted product profiles. She mentioned in the workshop the importance of identifying different market needs for crops, as that will become the base of market segmentation. For desirable crops, ensuring we breed for grower, processor, and consumer traits are crucial for meeting their needs in an ever-changing agricultural market.  
As Agnes described, since a product market segment is described in terms of its impact, it's crucial to analyze grower and consumer parameters to become familiarized with selected regional market opportunities. In turn, identifying regional market opportunities introduces the breeder to the target product profile that lays out a series of key traits. Breeding pipelines can, in turn, be aligned to these market segments.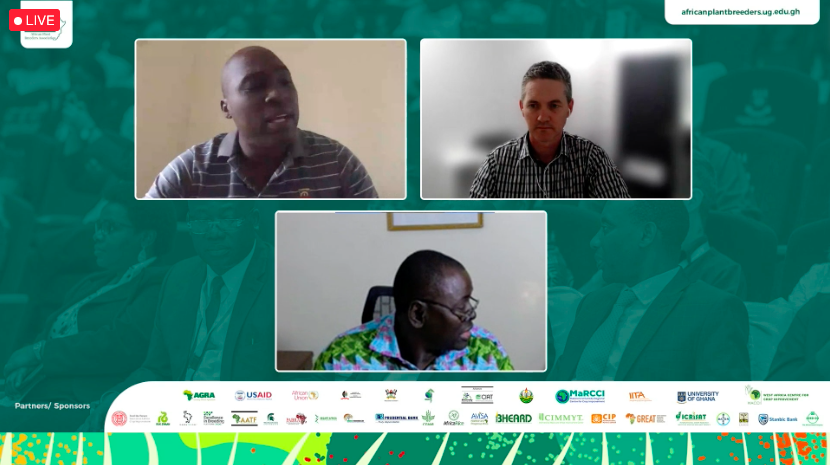 EiB Director, Michael Quinn, finishing his session "New directions in CGIAR Breeding" at the APBA Conference. 
Improving genetic gains is critical 
In his APBA session, "New directions in CGIAR Breeding," EiB Director Michael Quinn explained how the strategy behind One CGIAR and its Genetic Innovation portfolio will accelerate the breeding of cutting-edge crop varieties. 
When we consider crop production gains that have transpired within the last 60 years, "they have been impressive, but unfortunately, if we continue at the current rate, we will not meet the projected demand," said Quinn. Using maize and wheat as an example, Quinn explained that annualized production increases must be above 1.7% to prevent catastrophic price rises. Also important are roots, tubers, bananas and legume crops, along with many other vital crops, due to their role in nutrition and poverty alleviation. 
An integrated One CGIAR allows breeding programs to accelerate and optimize breeding power. To do so, breeding programs will have to ensure performance management is aligned with the goals of genetic gain and variety turnover. There must be dedicated efforts to better understand the impact. This, too, is a numbers game, and it must be measured in a standardized and scientifically robust way. And optimizing breeding schemes must be prioritized, which means improving breeding cycle times (age of parents), data accuracy, selection intensity, and genetic diversity. As Quinn pointed out, EiB and partners are moving forward on this vital data-driven agenda.
CGIAR & NARES: If you want to go far, go together
With a unified One CGIAR vision in crop breeding production, EiB will be capable of strongly supporting partners in variety development. "If you want to go far, go together," said Quinn. 
One CGIAR ensures that National Agricultural Research and Extension Systems (NARES) will have a strong role in the breeding process. "We will focus on breeding networks rather than individual CGIAR programs," explained Quinn. The One CGIAR model aims to "Leverage CGIAR resources to support and fund greater NARES participation in CGIAR-NARES breeding networks, provide more resources for NARES and build a partnership model that supports increased NARES breeding capacity."
Also, a priority is to ensure the next generation of breeders thrives in the new wave of crop breeding. To boost this, CGIAR is partnering with African universities to ensure that the next generation of African breeders can face crop breeding's most puzzling challenges.
The future of crop breeding is now
The formula for success in the African breeding numbers game lies in the ability to constantly adapt to crop breeding's curveballs, while understanding different demographics' needs. This is the pathway towards an innovative future within One CGIAR. And as the EiB team pointed out to APBA participants, the time for change is now.
However, breeders cannot accelerate genetic gain and increase variety turnover alone. We need not just scientists but also leaders, managers and policymakers to drive change. 
In the race to meet the world's food production and nutritional demands, the key to the numbers game is innovation and collaboration. Together, One CGIAR can strive towards fulfilling the Sustainable Development Goals (SDGs) to ensure that there are productive, nutritious and climate-resilient crop varieties for all.
More info:
Story by Misha Nicholas, EiB Junior Communications Consultant. This story reflects the information and views of the authors or quoted individuals only. EiB and partners are supported by CGIAR Trust Fund Contributors and the Crops to End Hunger initiative, via the Bill and Melinda Gates Foundation, GIZ, BMZ, USAID, UK Aid, ACIAR and other partners.