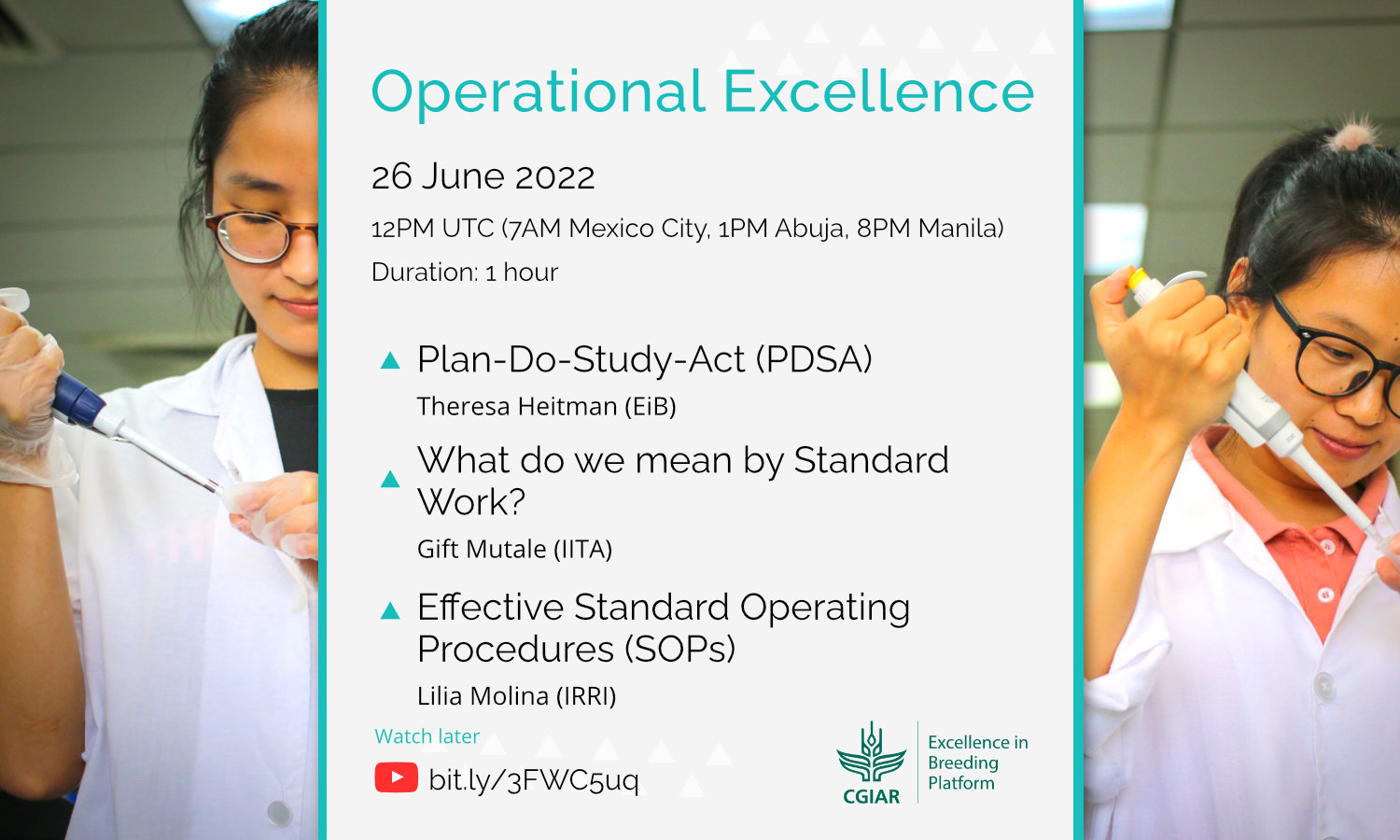 Time: 12PM UTC (7AM Mexico City, 1PM Abuja, 8PM Manila)
Registration: https://us02web.zoom.us/meeting/register/tZUtduiopj0tE9bMKVfM4_TqjAOp3hyBkItc
This webinar is one of our monthly Operational Excellence Webinars to support and promote a continuous improvement culture. All recordings of this webinar can be watched later at: bit.ly/3FWC5uq
Having a standard process for performing the work you do is essential to providing quality products and services to your customers.  Documenting the current best-known way of doing the work ensures consistency.  Join this month's Operational Excellence Webinar to learn about standard work and how to document it. 
Theresa Heitman will open with an explanation of the Plan-Do-Study-Act (PDSA) improvement cycle, with a step-by-step description. Gift Mutale (IITA) will then introduce the concept of Standard Work. Finally, Lilia Molina (IRRI) will provide a guide to writing effective Standard Operating Procedures (SOPs), covering the structure and importance of key SOP components. 
Objectives
The webinar will help participants understand or be able to do the following:
Gain knowledge about the PDSA improvement cycle.
Learn the definition of standard work and its importance.
Understand the value of SOPs.
Learn the recommended sections of an SOP.
Agenda
| | | |
| --- | --- | --- |
| Topic | Speaker(s) | (mins) |
| Introduction  | Gustavo Teixeira (EiB) |  5 |
| The PDSA Improvement Cycle | Theresa Heitman (EiB) | 5  |
| What do we mean by standard work? | Gift Mutale (IITA) | 15 |
| What Makes an Effective SOP? | Lilia Molina (IRRI) | 25 |
About Gift Mutale
Gift Mutale holds a certificate in general agriculture ( Zambia  College of Agriculture), a diploma in general agriculture (Zambia College of Zambia) and a Bachelor's degree in plant science (University of Zambia). Mutale has worked for the Zambia Ministry of Agriculture as an extension officer from 2007-2013 and as a crops officer under the same ministry from 2014. Mutale has worked as a farm manager for IITA since 2019. 
About Lily Molina
Lily Molina is currently the Research Manager and Service Unit Leader for the Analytical Service Laboratory, the Quality Evaluation Services and the Genotyping Services Laboratory for IRRI. Molina provides integrated leadership and management to develop its cluster market strength and lead the business to provide cost-effective, innovative and quality services. Molina also provides leadership to develop the Quality Management System based on ISO 9001:2015 to three service units of the Integrative Research Support Platform of IRRI, and has conducted a series of training sessions on ISO 9001:2015 to build capacity among the staff of the three service units.
Short description:
In this webinar, learn about the Plan-Do-Study-Act improvement cycle, the concept of Standard Work and how to write SOPs.