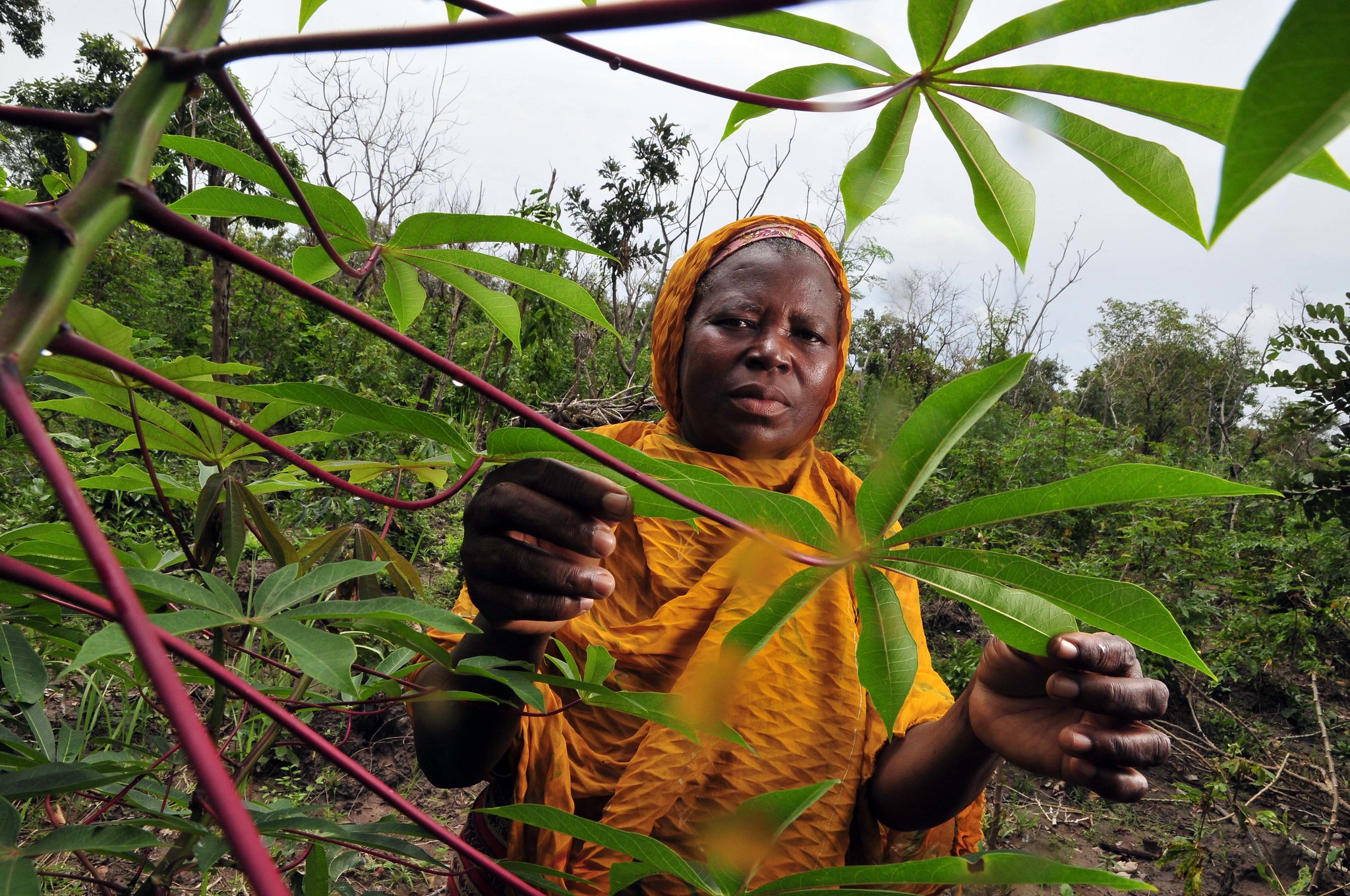 A woman cassava farmer in the Northern Region of Ghana. Credit: Neil Palmer (CIAT)  
Too often, agricultural progress is inhibited by innovations designed by and for men. But what would happen if women were involved in design and development? One aspect of agricultural science — crop breeding — has major potential to empower women to become the author of their lives. By making crops more climate and disease resilient, improving their community roles and livelihoods, and ensuring their preferences are incorporated into new varieties, crop breeding can set the pace for the future of women in agriculture.  
As the world marks the International Day of Rural Women on Oct 15 this week, let us dive into the five ways crop breeding can close the gender gap for rural women farmers:  
1. Using breeding tools can help us understand and meet rural women's needs    
Preconceptions about the roles played by rural women farmers and consumers can lead to them being denied the resources needed to improve their incomes. For example, in Uganda's case, the banana is an important staple crop that's grown by more than 75 percent of farmers. According to CGIAR's Research Program on Roots, Tubers and Bananas (RTB), research shows that in Uganda, impoverished women that might not have a man in their house may find obtaining banana planting material a challenge. Hence, for poor female-run households, rural women farmers may be more susceptible to being excluded from obtaining resources to improve their crop harvest.   
But, champions of the gender-responsive breeding approach, such as the Excellence in Breeding (EiB) Platform, are ensuring the needs of women are met by developing gender responsive Product Profiles. The concept allows breeders to produce varieties that take gender into account, ensuring they have the upper hand in selected markets. Understanding what traits women prefer will lead to varieties that are more broadly and rapidly adopted. And meet the work, nutrition and production needs of women.  
2. Breeding boosts and maintains income   
Access to new crop varieties that meet the needs of women farmers means they can also benefit from more resilient crops. New crop varieties help women avoid significant losses and risks as producers or processors of crops that provide a steady source of income.  
For example, biotic crop stresses in cassava such as cassava mosaic disease (CMD) and cassava brown streak disease (CBSD) can have economic effects on crop production and the rural women farmers involved. But introducing disease resistance into varieties designed with rural women in mind allows them to avoid income loss due to disease-stricken crops. 
Also, for rural women farmers, abiotic crop stresses such as drought, salinity or extreme temperatures will become harsh realities that may affect their income and agriculture. By 2050, the world's population will grow from 7 to 9-10 billion people. To avoid massive food insecurity, the world will need to raise its agricultural production by 60% - 110%. The breeding goals of Crops to End Hunger aim to ensure improved genetic gains lead to more and better food, especially for rural communities.  
3. Breeding can decrease drudgery  
Breeders can help decrease drudgery by creating varieties with minimal need for weeding, are easily threshable, or that make them easier to process or cook. For example, in Nigeria, women are big players in cassava manufacturing, management and marketing. In this case, the G+ Customer Profile tool, developed by the Gender Breeding Initiative, can ensure breeding programs create crops that consider gender preferences, such as cassava that cooks quickly and is simpler to peel. For Nigeria's rural regions, having crop breeding technologies aimed at women is crucial to alleviating the social dynamics of drudgerous female household chores and responsibilities in crop production.   
4. Rural women can work as breeders too!  
Women inspire women. Therefore, crop breeding must include women to further improve the lives of female rural farmers. Women students in the West Africa Centre for Crop Improvement's (WACCI) program are examples of how trained women breeders can inspire women rural farmers to pursue careers as breeding scientists.
As well, CGIAR and its national partners have plenty of talented women breeders, many with a rural background in the countries where breeding work is meant to target. While women are still underrepresented, we are seeing more in scientific and leadership roles.   
5. Community roles can contribute to gender equality  
Paulina Odey, a woman who lives in the Osun State in Nigeria, joined the International Institute of Tropical Agriculture (IITA) and RTBfoods project activities in cassava evaluation. Odey is an example for rural female farmers to follow — as pursuing breeding institutes while giving back to the community can elevate a woman's status in society.  
Implementing participatory methods such as the tricot citizen science approach. For example, the tricot approach offers female farmers to become citizen scientists that test out varieties and inform breeding programs. Thus, women can be more than mere respondents to inform breeding. They can also become partners, continuously evaluating new varieties, providing feedback on varieties and their working conditions, and disseminating varieties to others.  
Empowering rural women is key  
Empowerment is the key for rural women farmers to face the daily realities of crop production. And stakeholders from the public and private sectors need to be a part of the effort. Technological disciplines that include rural women farmers such as crop breeding have real potential to boost their access to resources and to provide them opportunities to further increase their income and uplift their opportunities. For rural women farmers, crop breeding can open the door for them to be heroes. 
-----
Story by Misha Nicholas, EiB Junior Communications Consultant with support from RTB's Sarah Fernandes and RTB scientists. Special thanks: to EiB project funders including the Bill & Melinda Gates Foundation (BMGF), the Foreign, Commonwealth & Development Office (FCDO), the United States Agency for International Development (USAID), the German Agency for International Cooperation (GIZ), the Federal Ministry for Economic Cooperation and Development (BMZ Germany), the Australian Centre for International Agricultural Research (ACIAR) and our presenters and partners.