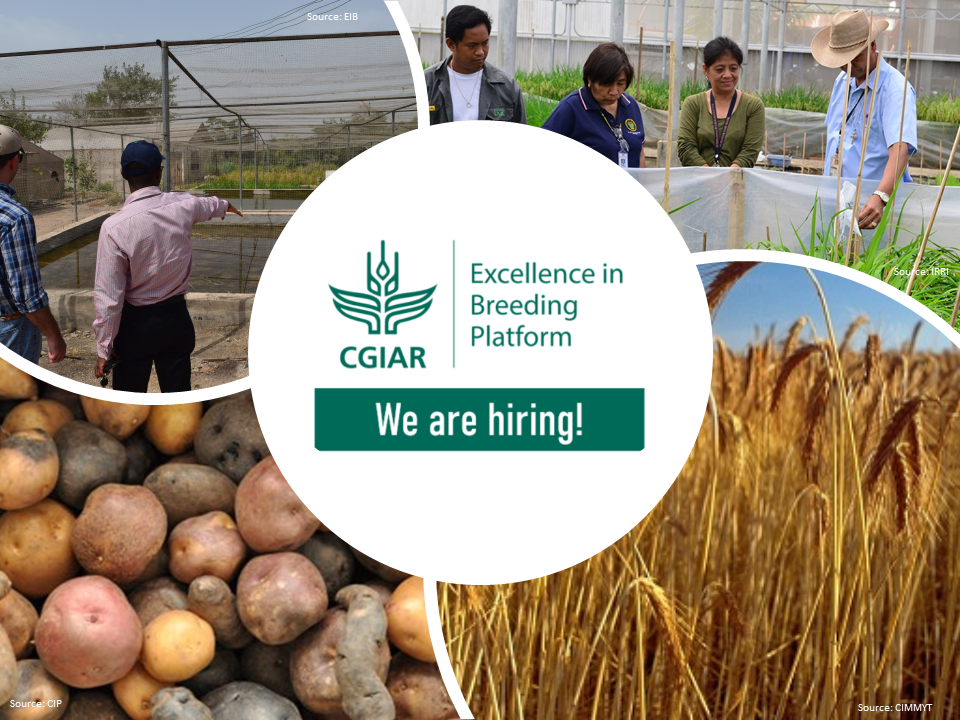 HIRING: Requirements Analyst (IRS Position Based in Texcoco, Mexico)
The CGIAR Excellence in Breeding Platform (EiB) (www.excellenceinbreeding.org) is a cross-commodity platform that supports the modernization of breeding programs targeting Africa, Asia, and Latin America for greater impact on food and nutrition security, climate change adaptation and development. By providing important outcomes to under-resourced peoples, the CGIAR centers help realize the founding mission of the CGIAR system – they target low-and-middle-income countries for greater impact on food and nutrition security, climate change adaptation and development.
The Platform is part of the new CGIAR portfolio of research programs and platforms (
www.cgiar.org/our-strategy
) and is led by the International Maize and Wheat Improvement Center, known by its Spanish acronym, CIMMYT®, a not-for-profit research and training organization with partners in over 100 countries (
www.cimmyt.org
).
The CGIAR Excellence in Breeding Platform (EiB) is recruiting a Requirements Analyst for the Enterprise Breeding System (EBS).
The Enterprise Breeding System, developed under the EiB, is a comprehensive breeding system designed to support routine operations, analyses, and decisioning across a breeding pipeline. The EBS project is looking for an energetic and technically well-qualified candidate to help the team by gathering business requirements from various areas in multiple organizations that are part of the EBS networks and translating them into functional system design specifications that can be successfully executed by IT development teams.
The candidate will be working closely with the EBS developers, users, stakeholders, and associated breeding communities to describe and gather requirements for breeding and service processes such as experiment management, phenotypic data collection, breeding service requests management and plant sample management  The successful candidate will play a key role in contributing to the development of the Enterprise Breeding System across its three main development domains: Core Systems, Core Breeding, and Breeding Services.
The location of this position will be at CIMMYT headquarters in Texcoco, Mexico. The position may begin remotely from your home base or current location if organizational approval for the relocation to the work site is delayed due to COVID 19.
Specific duties:
Work closely with breeding and service team members to model the key business processes that will be supported through the EBS and document the business process activities and workflows related to such services and products.
Obtain information about relevant equipment and software used by breeding programs and service providers to support service management, operations such as Android applications to facilitate field sampling, full digitization of operational processes, among other activities.
Work closely with nominated process owners and subject matter experts to capture functional requirements for EBS software to support the business processes and prioritized workflows.
Collaborate closely with other EBS requirements analysts and be an efficient member of the team that designs integrated tools that facilitate the completion of a breeding cycle.
Work closely with EBS developers and test engineers in the implementation of the EBS development process including design, sprint planning, testing and version releases.
Communicate about new software features to EBS implementation and support network members and other key stakeholders.
Learn new or improve existing know-how such as process modelling, creation of mockups and usability testing.
To apply:
Candidates must apply here for IRS21142_Requirements Analyst. Screening and follow up of applications will begin on Friday, December 10th, 2021. Applications must include a CV (with information about 3 work-related references) and a cover letter. Incomplete applications will not be taken into consideration. For further information on the selection process, please contact Yessica Castillo, at y.castillo@cgiar.org. 
Please note that only short-listed candidates will be contacted. 
This position will remain open until filled. 
CIMMYT is an equal opportunity employer. It fosters a multicultural work environment that values gender equality, teamwork, and respect for diversity. Women are encouraged to apply.