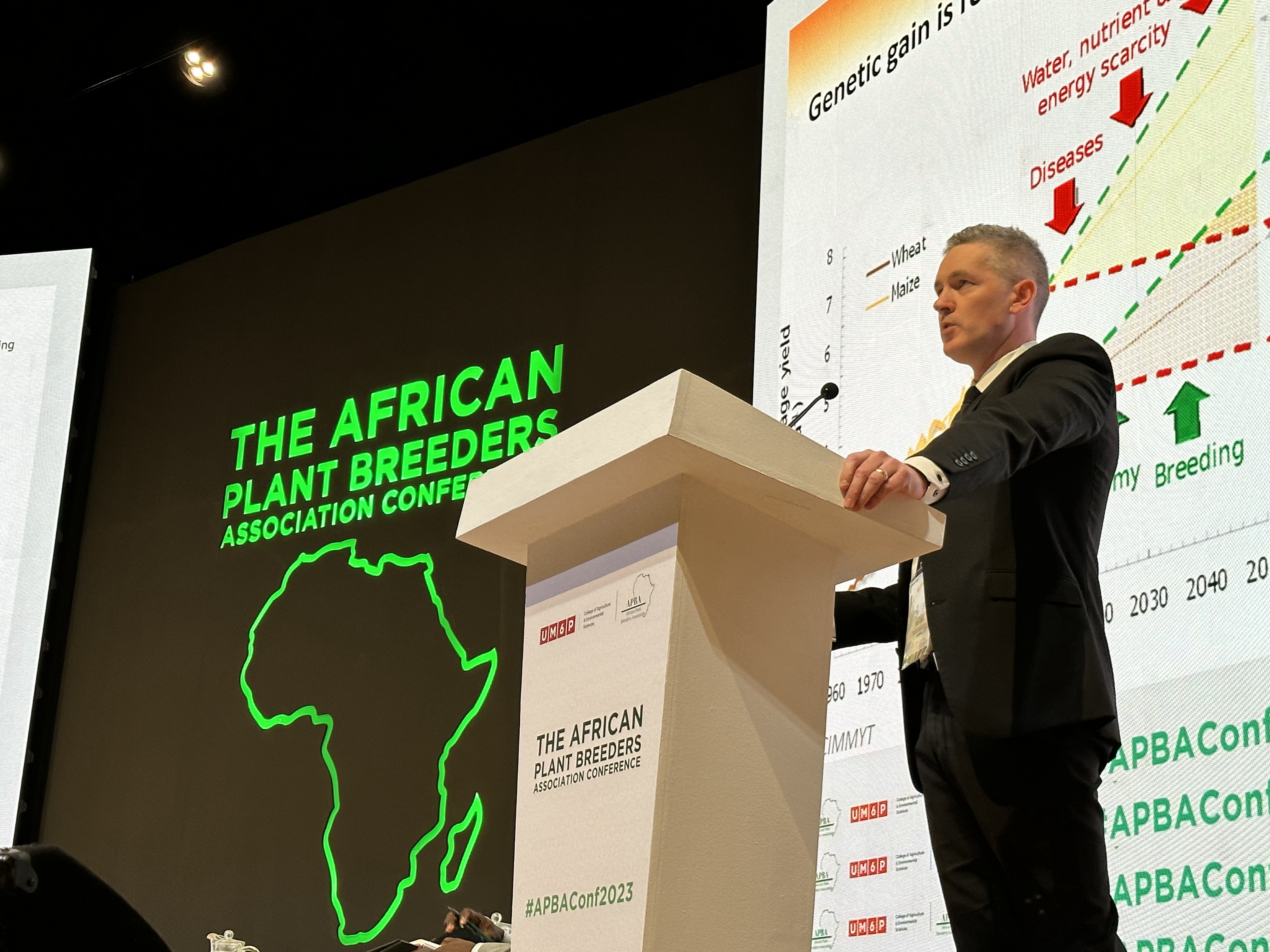 How can Africa leverage genetic innovations to support resilient food systems in the wake of global shocks? That's the pressing question CGIAR's Genetic Innovation and partner organization scientists addressed at the 2023 African Plant Breeders Association conference, held in Marrakech at the end of October.
The conference brought together 400 participants, including scientists and policymakers from over 50 countries, to explore the complex answers and offer tangible solutions. From high-level panels to parallel sessions, experts discussed strategies to accelerate breeding modernization, transform National Agricultural Research and Extension Systems (NARES) for driving Sub-Saharan Africa's food security, strengthen partnerships, and redesign crop breeding to meet the challenges posed by climate change on the continent.
CGIAR staff contributed to nearly 20 sessions as hosts, presenters and panelists, along with over 30 scientific poster presentations on breeding advances and innovations.
Setting the scene: growing populations, growing climate challenges
Godfrey Bahigwa, Director of African Union Commission, opened the conference by highlighting that only Kenya is on track to end hunger by 2025, with 22% of the African population suffering from insufficient food intakes. Chikelu Mba, a Deputy Director with FAO, emphasized the need to produce 50% more food to feed the projected nine billion people in 2030, using 2012 figures as a reference. Hunger has been increasing, even before the pandemic, with one out of every ten people in Africa experiencing hunger.
At the same time, CGIAR experts and partner organizations all agree to say that the effects of climate are already manifesting in Africa. Their observations, gathered from close fieldwork in diverse environments, reveal a consistent pattern of more frequent droughts and water scarcity accompanied by region-specific challenges.
Faouzi Bekkaoui, Director General of INRA, Morocco, described Morocco's population doubling in the past 45 years. But at the same time, just three out of the past 34 years have seen sufficient rainfall for cereal production in Morocco, highlighting water scarcity in a country where only 12% of the fields are irrigated.
To address these challenges, the conference's chairs explained that high genetic gains are essential in producing more with less. Plant breeding thus plays a vital role in addressing the shocks that impair production systems across Africa.
Where does CGIAR stand in this race against the clock?
Sonja Vermeulen, Science Managing Director of Genetic Innovation at CGIAR, explained that CGIAR is evolving to become "an organization of the people it represents, with personnel from Africa, for Africa. Over 50% of the Organization's work is now on the continent" she said, also emphasizing the shift towards a more global and interconnected approach. For example, collaborative efforts like heat-tolerant beans from Colombia are used to aid East African farmers, and Asian-developed rice germplasm led to new varieties in West Africa.
Michael Quinn, Lead of the CGIAR Accelerated Breeding Initiative (ABI), in his address about CGIAR plant breeding modernization, stated that "the next 2-5 years will see big, positive changes, as a result of answering big, strategic questions".
Across 140 breeding pipelines worldwide, collaborative CGIAR breeding networks are answering critical questions, such as: Do we have our investments right? Are targeted market segments too small? Are we duplicating breeding efforts? Are individual pipelines trying to do too much? Are Trait Discovery and Deployment efforts focused on the most important traits?
How is CGIAR helping find answers? Effective collaborations, like the Nairobi NARES leadership meeting in June 2022, aim to enhance partner involvement. All CGIAR breeding decisions are targeted toward the release of varieties - which are brought to market by partners. Capacity development of NARES is a significant priority, along with a systematic assessment of partners' strengths and ambitions.
Technical support is tailored to specific needs, with initiatives such as "Crops to End Hunger" supplying substantial funding for research stations. "In Africa, CGIAR and NARES collaborate on the improvement of 15 breeding stations", explained John Derera at APBA. "But to develop sustainable platforms and maintain shared services, we need continuous public-private collaboration and support. It's our next challenge!"
How does this approach impact partners' work?
CGIAR partner centers used APBA to clearly show that their portfolio is more relevant than ever, encompassing some of the most crucial crops on the continent, namely wheat, which is the most widely consumed cereal in Africa; barley, the second most cultivated crop in North African countries; cassava, supporting the livelihoods of over 300 million Africans; yam, with 96% of global production in Africa; and grain legumes and dryland cereals, comprising six climate-resilient, highly nutritious, and high-yielding crops.
Scientists described their blend of highly technical breeding techniques used to develop the crops. They range from classical breeding, marker-assisted and genomic selection, single spike planting, integration of doubled haploids, that have halved breeding cycles, cytogenetic markers that visually map DNA sequences, and speed breeding, which allows to develop up to six generations per year, using 22h of light per day.
Collective efforts in advanced breeding techniques, market intelligence, Genebank resources, and seed systems have yielded great results. In 2022, a total of 303 new crop varieties with improved yields and enhanced resistance to diseases were introduced across 45 countries. 75% of these innovations show climate resilience, while 35% contribute to the reduction of malnutrition among women and children. 900 strategic partners including NARES, seed companies, governmental bodies, and more, made this possible.
APBA 2023 emphasized that the growing global population can be fed while limiting damage to the planet, but "business as usual" is no longer an option. The 21st century requires new strategies, new technologies and private-public partnerships are essential. Policymaking at the national level plays a critical role, and scientific evidence should guide decision-making, to deliver farmer preferred varieties and feed the growing world population.
----
Written by Julie Puech, Accelerated Breeding and Breeding Resources communications. We would like to thank all funders who support CGIAR research through their contributions to the CGIAR Trust Fund. And thank you to the supporters  and partners of CGIAR Excellence in Breeding, particularly the funding from Bill and Melinda Gates Foundation and USAID. Main image: Michael Quinn, Accelerated Breeding Initiative Lead, at APBA 2023. Photo credit: Adam Hunt, GI/CGIAR.