A rich source of protein, oils and other nutrients that requires few inputs to produce, groundnut is considered both an important contributor to household nutrition and a cash crop. To accelerate the development and adoption of improved varieties, a workshop on the use of product profiles low-cost genotyping was held for groundnut breeders in Malawi.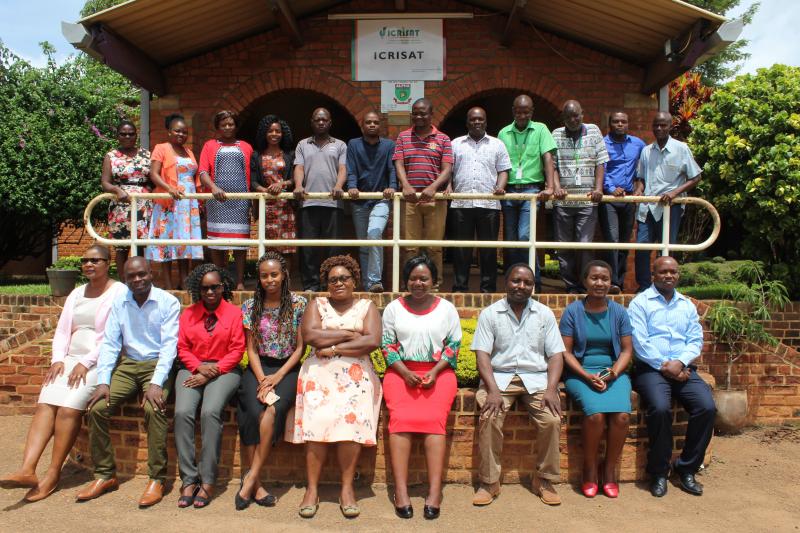 Workshop participants. Credit: Milcah Kigoni.

Organized by the International Crops Research Institute for the Semi-arid Tropics (ICRISAT), breeders from the national agricultural research program were also included to receive training from EiB and the High-throughput Genotyping (HTPG) project.
Groundnut has been key to the transformation of commercial agriculture in Malawi, where around 40% of the groundnut grown by smallholders is sold, generating 25% of household income. However, most farmers use low quality seed from their own harvest or through informal markets due to a lack of access to good-quality commercial seed. A 2010 survey found just 26% of households in Malawi grow improved varieties.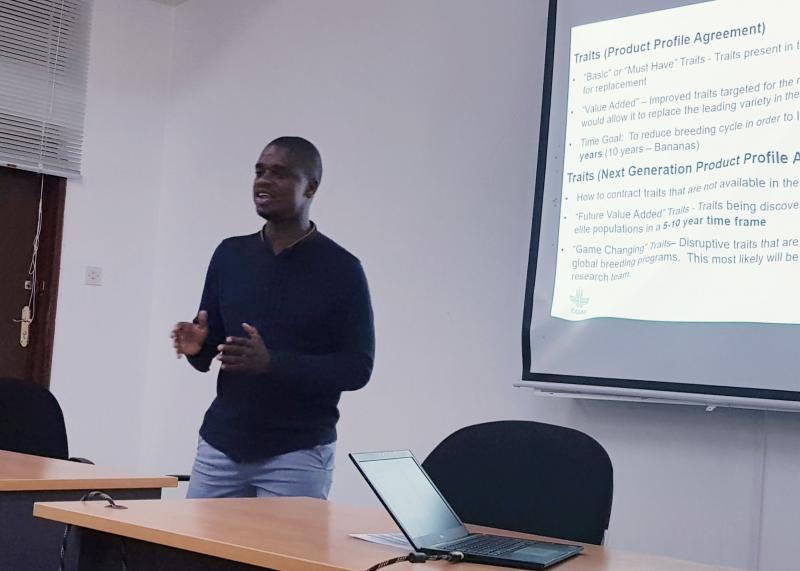 Tawanda Mashongikya, EiB Product Manager, explains the value of product profile in a breeding program. Credit: Milcah Kigoni.
Tawanda Mashongikya described how product profiles can be used to focus breeding on the qualities required by different users in the value chain in order to have greater market impact. 
"Improving seed quality for Chitala (ICGV-SM 99568), a popular groundnut variety in Malawi, would be key," said participant Wills Munthali. "The variety is short duration, medium seed size with good tolerance to rosette disease but limited in finding its way to market by poor seed quality." Development of a variety with smooth and blanching seed coat would thus be a priority as a product profile.
If breeding programs are to quickly deliver products that respond to these needs, it is necessary to continuously adopt modern approaches to shorten the breeding cycle. "The use of molecular markers in breeding can reduce cost and time needed to do selection in normal conventional breeding, thus ensuring delivery of ready products to the farmers within a short period," said James Mwololo, one of the participants who received training in planting and sampling techniques required to make best use of the low-cost genotyping services offered by HTPG. 
Lizzie Kachulu, ICRISAT Malawi illustrates leaf sampling to fellow participants during a hands-on training session. Credit: Milcah Kigoni.
After the five-day training concluded, Patrick Okori, ICRISAT country representative for Malawi, thanked the organizers and participants for their interest in the breeding modernization agenda with his closing remarks: "It is important to translate the knowledge you have acquired into action to make breeding programs more responsive to the challenges facing the farming community."