Accelerating breeding modernization to enhance genetic gains
To address hunger, poverty, and climate change, farmers need robust and climate-resilient varieties of major crops such as wheat, rice, maize, and potato. CGIAR-Accelerated Breeding Initiative and the International Rice Research Institute (IRRI) strive to swiftly modernize NARES breeding programs, benefiting farmers in low- and middle-income nations in Asia and Sub-Saharan Africa.
The NARES' current crop breeding system relies on a traditional, time-consuming pedigree-based approach. This method hampers meeting food demand milestones promptly. Recently, the CGIAR-Accelerated Breeding Initiative and IRRI's Breeding Modernization team organized a three-day, multi-crop hands-on workshop from August 1st-3rd, 2023 at Nepal Agricultural Research Council (NARC), Kathmandu, Nepal. The workshop aimed to empower NARES on "Accelerated Breeding Modernization to Enhance Genetic Gain." The workshop brought together over sixty crop scientists from 24 esteemed institutions of Nepal and India, representing various crops.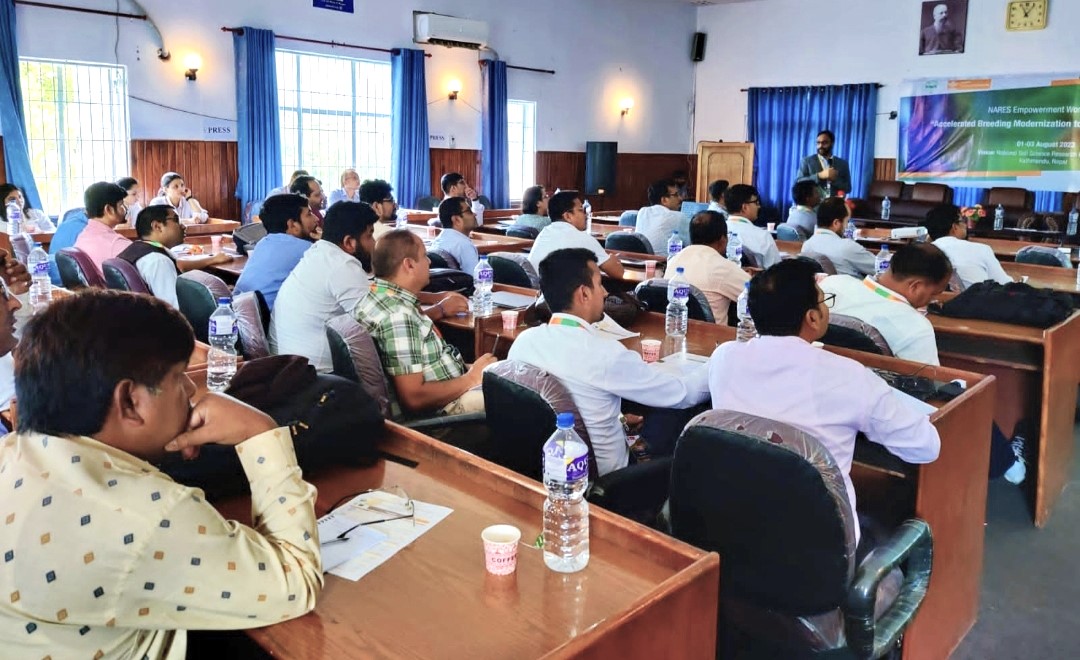 A workshop to transform NARES breeding programs in Nepal and India
Under the guidance of Sanjay Katiyar, Breeding Modernization Lead at CGIAR-IRRI & Accelerated Breeding Initiative, the workshop's main goal was a substantial transformation of the participating NARES' breeding programs. Attendees were immersed in an array of accelerated breeding modernization key elements, including demand-driven breeding, target product profiles, quantitative genetics based breeding strategy, speed breeding tailored for NARES, digital transformation, smart breeding tools, optimized experimental designs, plant breeding apps, bar-coding, electronic data capture, data management, and high-throughput genotyping integrated into breeding pipelines.
Underlining the importance of combining modern breeding principles, innovative technology, and operational excellence, Dr. Sanjay Katiyar, urged the revitalization of NARES' programs to enhance food security. "The extensive participation of multi-crop breeding teams across Nepal serves as evidence of the inclusive scope of the Accelerated Breeding Initiative", he said.
Furthermore, the significance of globally accessible technologies and shared services was underlined as a pathway to efficient integration into NARES breeding programs. Reshmi Das led hands-on training sessions, delving into electronic data capture through the Field Book app and fundamental data analysis using plant breeding tools. The workshop also fostered collaborative brainstorming on NARES breeding pipelines across institutions, with a spotlight on key crops like rice, wheat, maize, and potatoes.
According to Dr. Dhruba Bhattarai, Executive Director of NARC, "Swiftly modernizing breeding of key crops like Rice, Potato, Maize, and Wheat is crucial for national food security and diminishing reliance on imports. NARC pledges full support for Nepal's crop breeding programs to drive their transformation."
The assembly comprised esteemed 24 institutes of NARC, Nepal. This diverse representation highlights the wide reach and coverage of the Accelerated Breeding Initiative, reinforcing its commitment to fostering impactful change in public sector NARES breeding programs in Nepal and India.