Meat and dairy products are central to the Latin American diet, and livestock is a source of income for over 600 million people living on less than US $1 per day around the world. Historically, a lack of quality forage crops has restricted production and increased the environmental impact of livestock farming, with poor-quality grazing areas being created through deforestation.
Seeing this challenge, breeders at the International Center for Tropical Agriculture (CIAT), Colombia set off to radically change the market by developing the first commercially available tropical forage hybrids. The fledgling breeding program went from first cross in 1988 to the successful release of the Mulato variety by 2001 and, just three years later, a popular successor that was widely adopted. 
According to CIAT forages breeder Valheria Castiblanco, this success was a product of involving public sector and commercial partners from product design all the way through to release and tightly coordinating breeding program targets with market needs.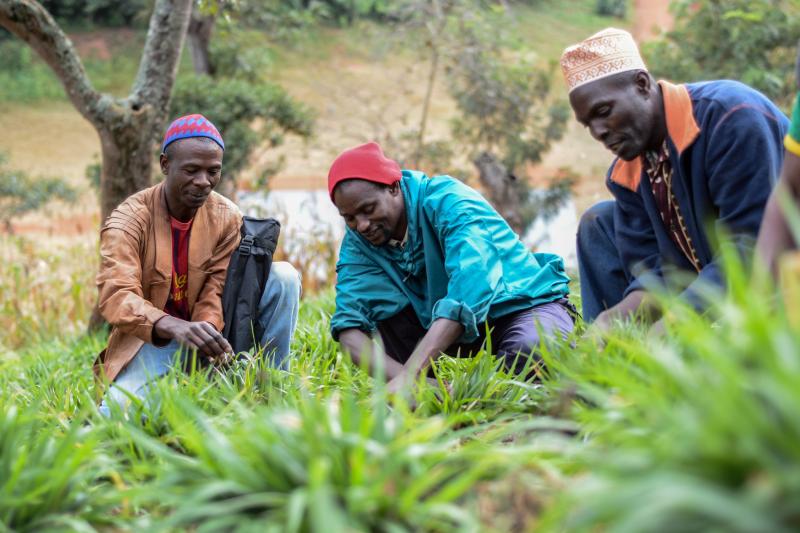 Photo: Farmers at a community plot testing different forages in Tanzania. Credit: Georgina Smith / CIAT
"In the first phase, when they were doing the product concept, they were in close communication with seed companies and with people in the field, who were users of these materials," said Castiblanco. "That was a key point in order to design products that were going to be successful in the long-term."
The 1980s forage market in Latin America was dominated by four African brachiaria grass varieties. Humidity, soil and pest conditions in many growing areas meant that productivity of these varieties was low and, because the grass is an apomict that reproduces by creating clones of itself, breeders were not able to improve on them.
The first scientific challenge was therefore to cross different grasses to create hybrids with superior traits and reproduction. From early interaction with stakeholders such as national agricultural research programs and seed producers, soil acidity tolerance and spittlebug resistance were identified as key priorities. Through several international forage networks, CIAT had access to 5,000 grass and legume samples to look for these traits.
To rapidly navigate the many cycles of crossing plants to pass down and combine the genes responsible for the characteristics needed by the market, the breeding team prioritized their goals. Basic traits like biomass production and grass quality are based on complex genetics, so the goal was set to meet the market standard. Others such as spittlebug resistance are based on fewer genes, so here the breeders pushed to make improvements that would have a real impact for farmers and producers, designing processes to measure each trait.
The first result of this effort was released under the name Mulato, a hybrid of two African grasses that flourishes in a wider range of conditions and produces more forage material than any competitor, in addition to having tolerance to spittlebug.
The next challenge was seed production. In order to flower and produce seeds, brachiarianeeds the longer days found at higher latitudes. To find these conditions, Mexican seed company Papalotla was included as a partner from the beginning, tasked not only with producing seed and exporting to the tropics, but as a partner in product design.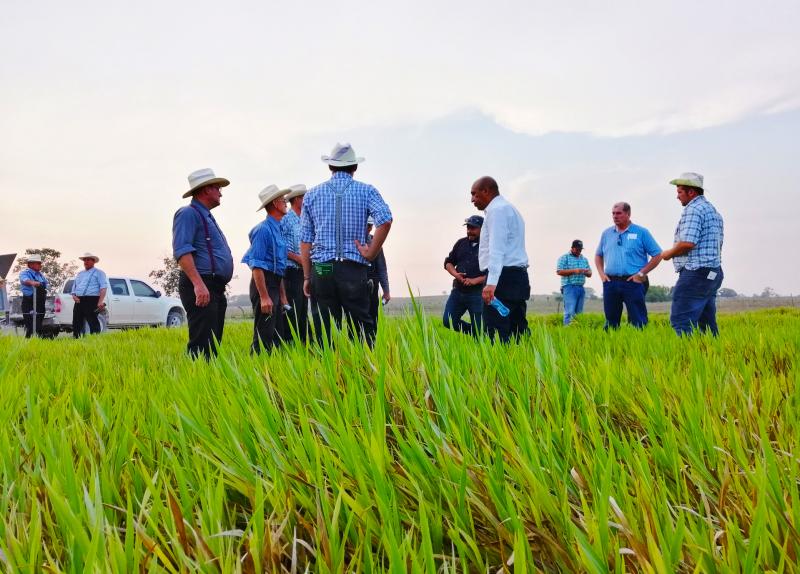 Photo: Brachiaria in the field at Papalotla, Mexico. Credit: Papalotla.
"From the onset of the relationship we set clear goals to deliver varieties that would not only address today's needs, but that contemplate the needs of tomorrow's livestock farmers," said Andrei Nicolayevsky, founder and director general of Papalotla. "Our global reach allowed us to identify a wealth of diverse farmer needs to enrich the breeding program." 
Papalotla also carry out the final stages of variety selection, testing the last 30-50 hybrids produced by CIAT in their own fields to find those with the best level of seed production and impact on animal productivity. They soon identified that seed production of the Mulato cultivar was not high enough, leading directly to the release of MulatoII three years later, which today is sown on near 800,000 hectares.
"Listening to the end user, whether it be our distributor or direct client is essential for product development. Who better to understand what it takes to compete in today's globalized food production economy?", said Nicolayevsky. "It is not only the variety that matters, but that technology transfer accompanies that variety through the value chain all the way to the farmer."
This close relationship with different stakeholders allowed the breeding program to rapidly achieve impact at scale, with a product that can lower both the cost and the environmental impact of livestock production. According to Nicolayevsky, small-scale farmers are often among the first adopters: "They live day-to-day with the risks of climate change, low productivity and difficult market access. Having the benefit of improved pastures makes their work a little less difficult."
"Having a seed producer involved in the process is a triple win for CIAT, Papalotla and end users," said Castiblanco. "CIAT aims to have the highest impact in terms of number of farmers and hectares reached, and having a partner with a wide commercialization network guarantees that goal. For Papalotla, getting involved in critical phases of product development allows them to have products tailored for their customers."
Future versions, again based on farmer feedback, addressed environmental challenges specific to particular markets, such as Humidicola adapted for humid conditions, drought-resistant Camello, waterlogging-tolerant Cayman, and Cobra selected for Cut and Carry Systems. Hybrid grasses have also been sent to 11 African countries and grown on at least 1,000 ha, showing the potential for future varieties to impact livestock production in Africa.
For Papalotla and the CIAT breeding team, future successes will be built on even greater market knowledge, not just from seed companies and farmers, but based on socioeconomic data too. CIAT is working with the EiB to advance the modernization of its breeding programs.