During 17-21 September, 22 members of the transformative rice breeding project at the Bangladesh Rice Research Institute (BRRI) received training in high-throughput genotypic selection and analysis as part of the collaboration between EiB and the High-Throughput Genotyping Project (HTGP).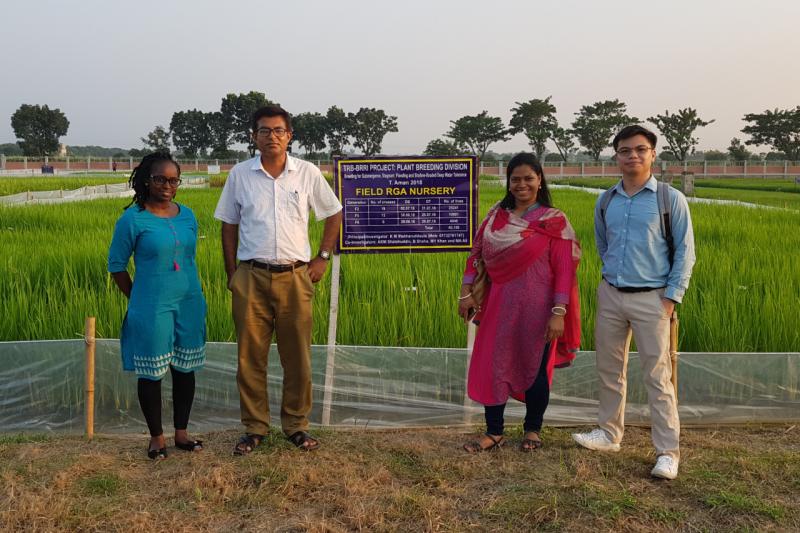 Photo: Dr. Khandakar Iftekharuddaula, Dr. Sharmistha Ghosal, Ms. Milcah Kigoni and Mr. Carlos Ignacio during a field trip to illustrate implementation of Barcode labels and Field RGA trays at BRRI
The training included a practical session on leaf sample collection, barcode tracking and the use of mobile applications such as Coordinate and Verify to standardize sample collection protocols.
After the practical session, participants learned how to clean and convert their data using the Galaxy cloud service, and then use Flapjack software to apply it in breeding applications.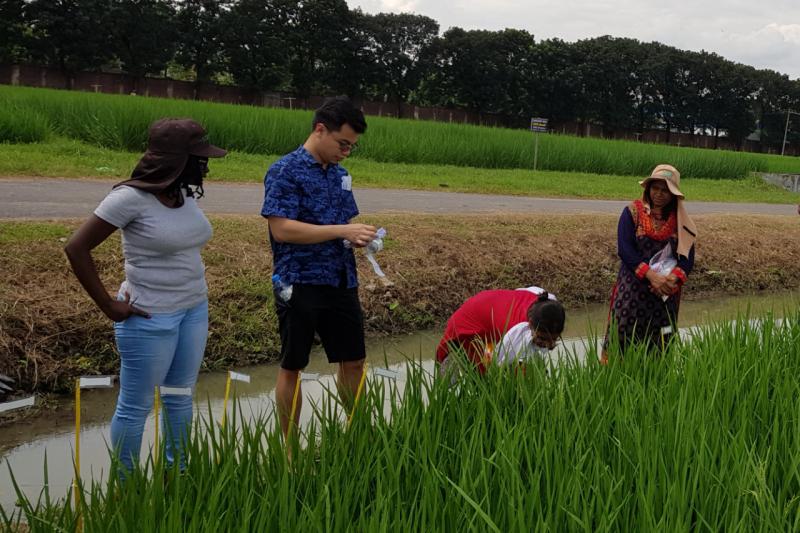 Photo: Hands-on leaf sampling training at BRRI Campus
"Flapjack tools for the analysis of SNP tracking data in forward breeding data will be useful for us. This training was very much helpful for the capacity building of BRRI scientists in the analysis of molecular data," said Sharmistha Ghosal, of BRRI, who attended the training.
The training was conducted by Milcah Kigoni of the International Crop Research Institute for the Semi-Arid Tropics (ICRISAT), and John Carlos Ignacio of the International Rice Research Institute (IRRI), with the welcome addition of two BRRI participants in an earlier workshop, KM Iftekharuddaula and Md. Ruhul Quddus.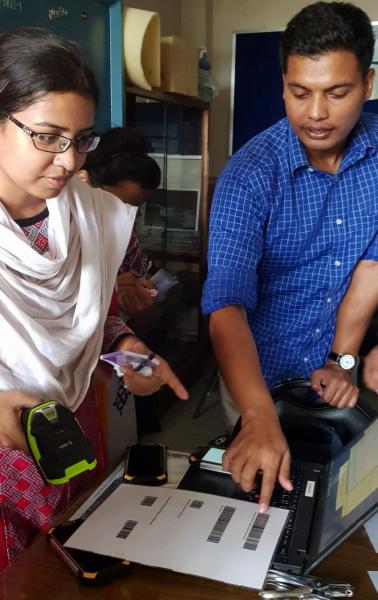 Photo: Participants at BRRI undertake a hands-on training on sample barcode preparation and use of PhenoApps
With support from EiB and HTPG, BRRI is progressing towards the implementation of modern, standardized, cost-effective technologies such as rapid generation advance, marker application, electronic data collection, post-harvest automation, sample tracking and other innovations to increase rates of genetic gain.